It's been 80 weeks (that's a year and a half) since a complete M.U.S.C.L.E. board game was featured as part of Auction Watch. It's been even longer than that since a single complete board game was featured. That streak has come to an end.
This auction, 10 Muscle men figures & game. No reserve, features a complete version of The M.U.S.C.L.E. Mega-Match Game. The fact that the board game hasn't been featured in does not speak to its rarity or lack of appearance. Instead it speaks to how easily it is forgotten about or ignored – which is too bad.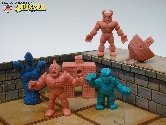 The game's cover art is certainly unique and home to an interesting oddity. The actual game board itself is also interesting and would make a nice home to a few figures sitting on a shelf. Regardless of the game's overall collectability and/or desirability the figures have always been popular.
This auction appears to offer all 10 figures from their original set. This is important because it insures that the wear and coloring will be consistent. Many game board figure sets are put together from various sets. Sometimes these turn out well, but sometimes the sets have slight coloring variations which detract from the overall attractiveness of the group.
As for the auction itself, there is an enticing opening price, fair shipping costs, a good seller (ddgaff1132) and a decent picture – although it would be nice to see the figures a bit more clearly and well lit. The auction description, does not add much to the auction:
The Muscle Men Mega match game. Comes with 10 Muscle men figures. The arena is the box bottom. There is a spinning number dial that still functions. Also included a sticker sheet. Alot of the stickers were applied but some still remain on the sheet. The box is in okay condition. No rips at the corners just alot of storage wear. No Reserve on this auction. Winner takes all.
This auction will sell for $19.


Follow-Up: The game sold for $21.16, which is $2.16 more than the predicted price of $19.