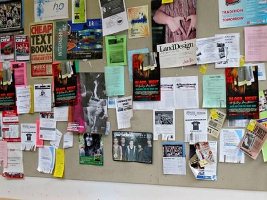 Fridays, Saturdays, and Sundays have historically been quiet times for the University of M.U.S.C.L.E. I thought it might be interesting to post some links to various auctions, older posts, message board threads, and anything else that might be interesting to M.U.S.C.L.E. collectors.
If the University of M.U.S.C.L.E. has been constructed in the style of a college or university, then these weekly posts should be thought of as the thing on campus covered with posters, stickers, and announcements.
– Dads, you might screw-up Mother's Day – but she'll understand when your kids are playing with this!
– I feel disrespectful when I say, "I wish I could get those."
– That's a pretty good souvenir.
– A great way for some people to display their figures.
– A very old topic got a bump this week. What do you think?
– 113 color figures I don't need.
– Whay are the ropes like that?
– "…just over 190 figures…" So that probably means 192 figures, right?
– When I saw this auction I thought, "What else would turn up with 'My Son's' in the auction title?"
– The answer was almost exactly what I expected.
– Rare = Shit (Example #6,457)
– This 4-pack wouldnt be worth $30 if it was AFA graded.
– Do 4-packs make people stop using their brain? $7.99? Jesus Christ.
– This seems to be the week of big lots.
– Another.
– Good starting (and ending) price, but the shipping seems too high.
– You know what's going to move these figures? The storage tray!
– Wow! Another storage tray!
– Is this the worst dollar-per-figure lot ever?
– Nice big lot.
– Somehow this doesn't seem 'HUGE' after the previous lot.
– Now, THIS is a HUGE lot.
– If they had thrown salad, this would be the best headline EVER.
– This is the perfect story for people that loved Home Alone and have $2.4 million.
– One of the most interesting follow-up stories I've ever read.
– It's been some time since The Smoking Gun had a story I paid attention to.
It seems like the Russian SPAMbots work working overtime this week. Sadly I don't have time to Google Translate all of them. I stuck with an English speaking Spambot:
I am sick and tired about this, in case you spam my own web site or even blog page 1 more instance I can expose yourself!