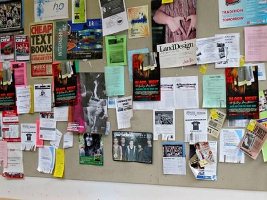 Fridays, Saturdays, and Sundays have historically been quiet times for the University of M.U.S.C.L.E. I thought it might be interesting to post some links to various auctions, older posts, message board threads, and anything else that might be interesting to M.U.S.C.L.E. collectors.
If the University of M.U.S.C.L.E. has been constructed in the style of a college or university, then these weekly posts should be thought of as the thing on campus covered with posters, stickers, and announcements.
– Just in case you live under a rock.
– If I give it another plug, do you think he'll just give it to me? The figure! The figure! (Have to be careful with Doc.)
– 162 figures.
– This just seems like a simple, good auction.
– Honestly, what's a fair offer? Four dollars?
– Mr. Smith, are you paying attention?
– I don't like this seller for two reasons. Can you guess the two?
– Pretty cool lot, but $88 already?!?!
– I'm tired of seeing these on eBay, are you?
– Almost as rare as a Purple #208.
– These kinds of lots are always so oddly fascinating.
– Not to put too fine of a point on it, but they're 'estimated to be about 26 years old.'
– I wish I could introduce the last seller to this seller. They'd love each other!
– Not one, but TWO!
– This just makes me so sad – and not because TMZ had the best (simple) write-up.
– This made me think of LRG this week, but it seems mean to put on your kid.
– Inside my glass house I know not to throw a rock.
– I'm always stunned when I see new Star Wars pictures.
– Too cool not to share. (Promise, thats the last Star Wars thing.)
– This headline never has any other breed. There's a reason.
– Most bad-ass sweatshirts ever? Yes.
– Give your kids an extra big hug and kiss today.
– I think anyone from the rust belt gets this article.
Contrary to what some people say SPAMbot, flattery will get you places:
Most helpful Web site Content I've Ever before Found
I don't want this to become a spot that I post trailers that are posted on every other website, but this just seems like a really good indication that this movie is going to be awesome. Sadly, I've been wrong before.