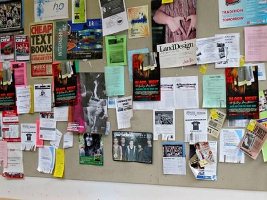 Recently I've started off the Epilogues with a mini-torial and/or the Asshole of the Week. This week I've got a full story to share. If you're interested, it's at the bottom of the Epilogue – after the links, pictures, and video.
And after this week's Asshole of the Week. But I really need to properly frame this week's winner. He isn't the normal asshole. He's an "asshole" like when your friend buys you the extra beer when you say you have to leave. You call him an asshole, but then drink the beer and keep having fun. This "asshole" is kind of like that – eyecandyunlimited.
He has llisted 80 single M.U.S.C.L.E. figure auctions. All of the auctions feature the same silly picture of figure #__. And best of all, each figure's Buy-It-Now price is $100. Just so you know, he'd also like you to kick in $1.95 for shipping. Even better, "Combined shipping is 50% off shipping cost of each additional item purchased."
This cracks me up. I audibly laughed when I first saw this (thanks Bill!). So congratulations to Mr. EyeCandyUnlimited! You are the Asshole of the Week and the first to be it through laughter.
– 81 figures (currently) at $0.25 per figure.
– How long will this continue at $55?
– Probably should have been the Asshole of the Week.
– 126 figures (currently) at less than $0.24 per figure.
– Class B Salmon #2.
– I wouldn't say rare, but still a nice lot of figures!
– Customizers, please buy this. Then make it a cool custom M.U.S.C.L.E. figure.
– I was looking to spend $10 on three dirty figures. Does anyone know a place to do that? Right here.
– Nice lot of M.U.S.C.L.E. stuff – good looking loose ring too.
– Fact: That painted bootleg is cooler than the Dark Blue Claw.
– Pricey, but cool, lot of BEB customs. But they look White, not Flesh.
– I don't need this lot, but at that price I think about it.
– Two MUSCLEMANIA 4-packs. (I should have a nice, big MUSCLEMANIA update Monday too!)
– I think the painted bootleg is worth, at least, the opening bid price.
– I love price tags. This 4-pack was purchased for $0.39.
– If you're looking for mint, then trust this seller. He has two 4-packs, but "Midge" always has great stuff.
– "There are also two stickers stocked to the bottom of the play-set."
– Some cool looking figures, but tough opening bid and shipping costs.
– The auction picture feels like an optical illusion.
– Not 56 M.U.S.C.L.E. figures, but very cool mixed lot with an OK starting price.
For me, there were two images that stuck with me this week. The first was the first test pull of two new custom M.U.S.C.L.E. figures from Man-E-Toys.com. And the second was the awesome Rivet Wars Stug Limited edition set. I know Adam Pratt did the painting and the rest of the set was handled by RivetWars.com. Both of these things just crowbarred themselves into my brain.
I know I'll be getting the Man-E-Toys figures, but I feel like I missed out on the Stug set – and I don't even collect Rivet Wars!


I will be the first to admit that this isn't the coolest video ever, but it did stick in my brain. How often do you see this? The Hippos at our zoo look dead. And the Hippos at our house are nothing but hungry.

Originally I was going to write an editorial called, "eBay Still Sucks."
Even as I was writing it I thought, "the title of this editorial is lazy." Everybody knows the good and bad parts of eBay. It was dealing with the ridiculousness of eBay and lunatic buyers that made me stop selling things on eBay.
Having gone back to eBay for Auction Watch #100 means the only person I have to blame is me. I guess a more appropriate title for the editorial would have been:

Shame on Me:
Thinking That Other People Have a Good Sense of Humor
About two days after I sold the Belt I received an email from the buyer:
Did you get a chance to ship my item yet?
Thanks!
– ronnieandaimee9
I responded:
As stated in the auction: Will usually ship within 5 business days of receiving cleared payment.

But because of travel for work, I know your item won't go out unti Tuesday.
A pretty standard response, nothing really fun – unless you consider my inability to add an "L" to the end of until to be fun. Also, the aforementioned Tuesday would have been March 24th.
On March 25th Mr. ronnieandaimee9 emailed me:
Did you get a chance to ship this today?
Honestly, it cracked me up – in the nicest possible way too! It seemed like the most enthusiastic possible person was going to be getting this belt. It just seemed fun!
Sending a simple affirmative response seemed boring. So I thought I'd have fun too:
Congratulations, you are the most enthusiastic MUSCLE collector ever! And that's coming from the person that runs UofMUSCLE.com.

Don't get too excited about owning this belt. It carries no magical powers. And in no way does it actually make you an intergalactic wrestling champion. In fact, it doesn't even work very well as a figure carrier or wrestling ring. I don't even think it's that great of a toy.

But yes, it will be going out today. But what won't be going out today (or ever leave my mind) is the enthusiasm of the guy that bought the MUSCLE belt. I've never come across someone as excited about an eBay item as you. You would think that the final price was $6,500 and not $6.50.

I tip my hat to you.

Take care,
Chad
Sadly, this was the response:
Why don't you refund my money, keep your belt and stick it up your ass.
What a bummer. What I thought was enthusiasm and joy was…not.
I'll spare you the remaining emails, but let you know I'm still sending the belt.
It is hard for me to accept that anyone could ever look at collecting through any lens other than pure fun. It just seems like collecting should be intrinsically joyful. And as your collection grows, so should the social orientation of the collecting. Of course, I'm not completely delusional. I know that is not the case for everyone. I know that people approach collecting from a lot of different perspectives with none being more right or wrong than any other perspective.
There's a quote attributed to Gandhi that basically says, "Be the change you want to see in the world."
I want to see M.U.S.C.L.E. collecting be a fun activity with a strong group of connected collectors. There will never be full agreement about that idea, but maybe we can hit a critical mass and start moving towards that idea.
And I plan on having a ton of fun doing it.
One last madness of eBay story. Again, just trying to have fun I left the following feedback for all the buyers from Auction Watch #100, "UofMUSCLE.com – Your support means we can put an end to uninformed collectors." I thought it had a silly telethon vibe.
Then I noticed one of my feedbacks was a neutral, it said, "Item shipped after reminding seller 7 days after purchase. LATE. otherwise good."
Now that cracked me up. He never "reminded" me. I guess this "story" just kinds of fizzles out. There isn't much more to add. I guess it's also hard to take the person that spent $13.50 on the M.U.S.C.L.E. video game very seriously – especially because most of the current eBay BINs are about $9 or less and it is even less on Amazon.