There's no Asshole of the Week. I feel kind of naked without it. Did I miss something?
– Tommy Tanker still in Pre-Order. Pick that B.A.S.T.A.R.D. up!
– Two weeks in a row liking a Star Wars thing?!?!
– Buy this (or this) and then this and BOOM! You've got a M.U.S.C.L.E. HiWay Hauler.
– Even with the shipping that seems super high I'm shocked that this, this, and this don't have higher bids (as of this moment).
– I should rescue that poor MUSCLEMANIA figure.
– 54 mostly Flesh figures.
– The free shipping helps this lot.
– Seems like a fine lot.
– I might buy this. I get 4 figures, plus 4 to destroy.
– Are non-functional spinners such a problem that we need to point out functional spinners?
– This spinner is in "great shape."
– Almost 50 figures starting at $4.99.
– Clean. Two cans. Check it out.
– Now you can own a broken ring for only $20…if there isn't a bidding war.
– Hey Macarena!
–Hey Macarena! (Satan Cross Remix)
– I have no idea on what the value of this lot would be, but it would be fun to open when it arrived.
– Sharpie? That looks like tar in the picture.
– I don't care how nice your picture is, this figure is so common he's worth less than a CUTIE – and this is one of my favorite figures!
– Rough lot, but $0.99 starting bid – maybe customize the ring?
– Late add.
I discovered this video this week. I loved it. I wish more idiots and liars could be dealt with this way. Of course, this probably isn't the right message for October's Anti-Bullying. Hey, I'm trying.

The Picture of the Week was so easy this week. When I saw these new Arrested Development pictures I was super stoked. There are even more pictures from EW on Buzzfeed, but this was my favorite.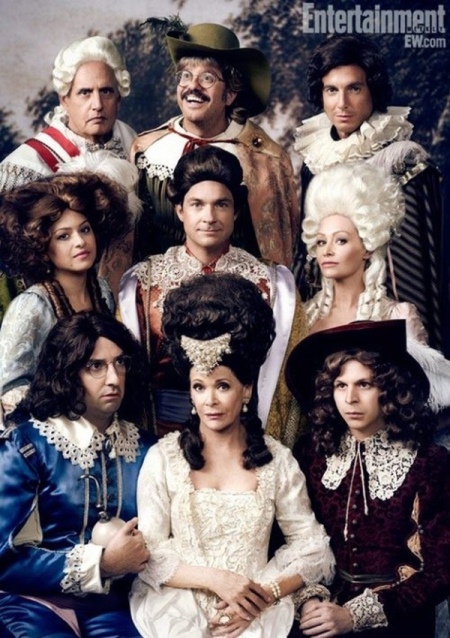 In the interest of full disclosure our old friend Michelle Jenneke's new gif of her in the rain nearly won out. But Arrested Development made me smile with a very pure sense of happiness. Ms. Jenneke also made me smile, but it felt a little less pure.
Plus I'm not going to post an attractive woman in hopes of getting a little more website traffic. I'm better than that. Cheap tricks aren't going to get this website traffic. It's going to take hard work, interesting posts, and all things related to M.U.S.C.L.E. – that's how this website will grow.
Not gimmicks.
Shut your mouth Picard.
Just shut it.