Warsman Black
by Professor Terry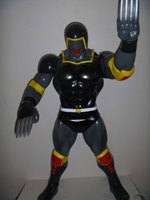 This week I'd like to showcase only the black version of the Warsman figures. I don't particularly like any of the five Warsman M.U.S.C.L.E. sculpts (#35, #59, #218, #231, and the Non-Poster Warsman with Spikes). They simply don't appeal to me.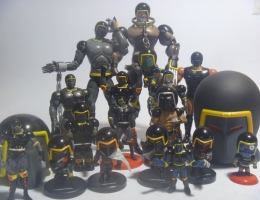 There's a Warsman in every set I collect, but when you add a bit of color – Warsman really does come to life! The black helmet is quite cool; a cross between a football helmet and Darth Vader helmet. The Warsman display can look striking when you put a bunch of them together.
What separates Warsman apart from other villains? The silver bear claws he wears on his hands are quite a weapon. A weapon that looks even better when it is blood spattered. The blood spatter is the primary reason I bought the Blue Romando. Look closely at his bear claw; it's a really nice piece. Probably not too child friendly though.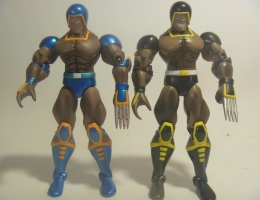 Another reason I collect these Warsman figures is because, in most cases, Warsman has different facial expressions. A look of nonchalance expression can be replaced by a cheeky smile or removed all together to expose the computer parts underneath. You can chop and change around at your leisure.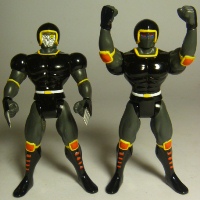 Sometimes I'll buy two of the same figure so I can pose him in two different formats! It's easy to do as well because most Warsman pieces are quite easy to find. My absolute favorite Warsman figure is the Giant Kinnikuman Series figure. He stands at about 20 inches tall, has two big bear claws, and interchangeable faces. He towers over nearly all my other figures!