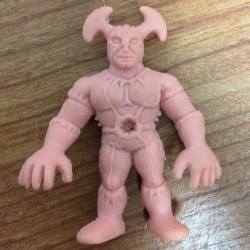 If you have remained under a rock, then this is for you.
For me, this is the exact reason people should never over pay for M.U.S.C.L.E. figures. The figures are out there. They don't all sit in one or two collections. Millions of these things were made. They are out there.
With that said, there are more M.U.S.C.L.E. auctions than ever. I have found that I must ignore most of them. The proliferation of single figure auctions is part of the problem. More broadly the overall glut of useless auctions is the result of overestimated prices.
I try to comment on auctions that are interesting, funny, unique, and/or a great value. There seem to be less and less of those auctions. I've never addressed this before in the Epilogue, but I felt like doing it this week.
As I am writing this I am suddenly struck with the thought, "Is MUSCLE a Guaranteed Burnout Hobby?" Maybe the question is phrased incorrectly.
Maybe M.U.S.C.L.E. will implode on itself. There will always be people that love it, but maybe as a hobby it has a limited shelf life. Maybe such a small population can't handle an influx of overpriced sellers? Maybe that is what will kill collecting M.U.S.C.L.E. figures as a hobby? Maybe.
– Is the shipping the reason this hasn't sold yet? Am I missing something?
– Do you guys look at these auctions for Non-Poster figures? I always do.
– $0.01 for six figures.
– Super faded Red? Salmon in a weird picture? I can't tell. I'm so curious.
– There was a time when this person would have been the AOTW.
– "Some of these are sell for upwards of $60…" I might ask "Ellen 518-307-9020."
– "VtG. M.U.S.C.L.E Men…" They are literally toys on a modern toy shelf.
– This is an odd little lot.
– My best offer would be $2.50. Think he'll take a 164% reduction?
– Ignoring everything else, I'm more upset that he spelled it "Quick" and not "Quik."
– Fuck yes. Akumoko and Ninja Rick.
– "My legs!" echoed in his ears; softly in the distance, "Oh god, his head!"
– 107 figures starting at $8 with free shipping.
– If they didn't sell at $9, then does a 29% to 108% price increase make sense?
– Not a joke. My eyes see Twinface before the #153.
– "Get all the ones you want at one place!" If that is true, then maybe the $350 price tag makes sense.
– I didn't like these figures when they came out. The $399.99 price tag makes me feel things.
The end.