Lucas Rage
, the King of Counterfeit, has once again made an amazing discovery. This time he discovered a variant
Future Strength
card.
Lucas was able to acquire two packages of carded Future Strength figures. The first one was identical to the Auction Watch #100 one he had bought years ago – same figures and everything. However, the second one is quite different.
The most immediately noticeable difference is the darker blue coloring. An attempt to argue that the color variation is due to fading, but the black and yellow lettering is not faded. The variation appears 100% authentic.
The second difference is that the figures are different. A variety of figures in different packaging is easy to assume, but that is not always the case with counterfeit figures. With so few carded examples of Future Strength this type of discovery is very exciting.
The third difference is very curious. A barcode is in the top left of the card. All previously documented examples of Future Strength figures did not have the barcode. To be a viable retail product a barcode is a forgone conclusion. Seeing the two versions raise some questions:
Which version came first?
Did they originally forget the barcode?
Did a "bootlegger" remove the barcode?
Could it have been regionally released by different companies?
Finally, at the bottom of the card, the distributor information is very different. On the original card it states:
MADE IN TAIWAN EXPRESSLY FOR McCRORY CORP. YORK, PA. 17402 TT-982
On the newly discovered card it states:
PACKAGING AND DESIGN © 1986 LAURIE IMPORT LTD
RECOMMENDED FOR CHILDREN OVER 3 YEARS OF AGE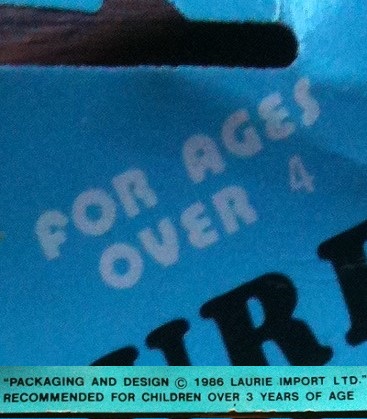 Obviously those are two significantly different pieces of information. I doubt the 1986 copyright is true. I truly believe these figures were rushed to market after the success of M.U.S.C.L.E. figures. I believe the 1986 copyright was meant to be a "hey-we-released-it-at-the-same-time-you-can't-sue-us" defense.
As a super nerd for these types of discoveries I loved all of these very cool variations. However, my favorite part of the newly discovered card is a hilarious lack of oversight. More accurately it could be described as evidence for absolutely zero care, pride, and/or work ethic for this product.
At the top of the card: "FOR AGES OVER 4"
At the bottom of the card: "RECOMMENDED FOR CHILDREN OVER 3 YEARS OF AGE"
If you have any Future Strength figures or packages to add to the archive, then please email a high-resolution picture to the University of M.U.S.C.L.E.. Please take the picture on a white background. Thank you!