Fugtaro
By Jeff D'Ottavio and Bad Luck Jimmy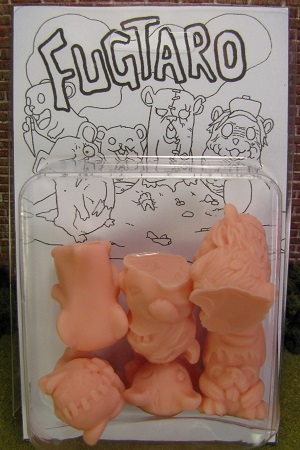 Objective:
Jeff D'Ottavio and Bad Luck Jimmy (previously known as IRONHAUS Productions) created a six-pack of hamster figures. Jeff sculpted three figures and Jimmy sculpted three figures.
The figures were available in resin and a keshi-like rubber. The $25 keshi-like rubber set was purchased.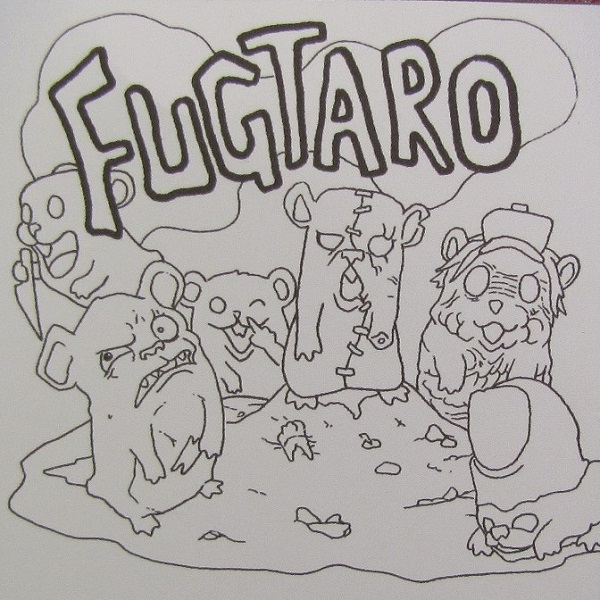 The figures were packaged in a resealable blister card. The backer card is black-and-white because it was meant to be like a coloring book page.
The figures are smaller than a M.U.S.C.L.E. minifigure. The figures are closer to half the size of M.U.S.C.L.E. figures.
Subjective:
I labeled Jimmy the Undisputed King of Microfigures. These figures only strengthen and further validate the title.
Originally I thought Jimmy created all of the figures. To my surprise Jeff sculpted half the figures. I was surprised because all the figures worked together so perfectly. It didn't look like two sets of figures packaged together. It looked like a cohesive single set of figures. If I hadn't looked it up, then I would have never known.
The first figure I wanted to examine was the "cutie" of the group.
Giving the figure the nickname "Cutie" might seem condescending too some people. I hope I'm incorrect, because I love the subtly of this figure. He is the smallest figure of the group without any obvious identifiying trait – aside from being small. However, when you look closely you notice he is flipping his middle finger.
Once you notice the finger his face looks more snarling than first glance allows.
All of the other figures had front and back photographs. The figure below, the one I called "Stabby," didn't have front and back pictures.
Why not? The back of the figure didn't have any details worth highlighting. However, I felt that the figure photographed significantly different straight-on and from an angle. Do you agree?
I think the slight angle looks better because you can see his ears. Plus you can tell the head is tilted slightly back; almost like he's screaming and getting ready to stab.
When I saw the third figure my mind went immediately to Chewbacca.
There was something about the the fur. I can't put my finger on it. Maybe the circles add to it because they almost look like Chewbacca's bandolier. Does anybody else see it or am I on an island with this one?
My favorite detail of the figure is the non-Chewbacca-like baseball hat. It sits perfectly on the figure's head. The scale and placement are perfect. The back clasp looks perfect too.
The next figure looks like Frankestien's two-piece hamster experiment.
I don't think I have ever seen a design like this one. Minimally, I can't remember ever seeing something like this figure. I love the idea of sewing two things together right down the middle.
I almost never want my unarticulated, monochromatic figures painted. This guy might be one of the rare exceptions. I'd love to see what a painter could do to this figure. I also think this figure could pull off interesting color castings too.
The figure below confused me.
Who is this guy?
I love when figures are both art and toys. Kickstarting a person's imagination is important as a toy and a piece of art. This figure didn't do it for me initially. I found myself looking for his identity and couldn't find it.
Was that the point? I believe it was. Jimmy likes the idea of grunts; faceless, not-special, cogs in the machine. I think that is this figure's identity – which a six-figure set needs. There can't be six captains.
Finally, we have the figure I expect to be the fan favorite of the set.
C'mon. The hamster is wearing a severed fingertip as a hat. Who isn't going to love this guy?
Do I really have to say anything else?
I wanted to include a size comparison too. Believe it or not, the figures were slightly larger than I expected when they arrived. That doesn't mean they aren't microfigures.
If you missed out on these figures, then I feel genuinely bad for you. These are just so damn charming.
On Instagram, keep an eye on bad_luck_jimmy
and thatdamnjdo. If these figures are going to show up in the store again, then I would expect to learn it there first.
Don't miss them a second time.
And get to work on Series Two guys.