One of the constants I have heard from Mattel employees is that Mattel wanted a turnkey product and that nobody was excited to work on the project.
That always made a tremendous amount of sense to me. Aside from the pre-pack and the MUSCLEMAN splash art there wasn't very much original content produced by Mattel.
Before revealing the discovery. Can you make the same discovery? (Don't cheat. Slowly scroll down.)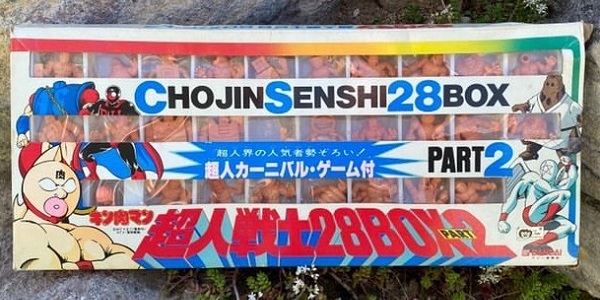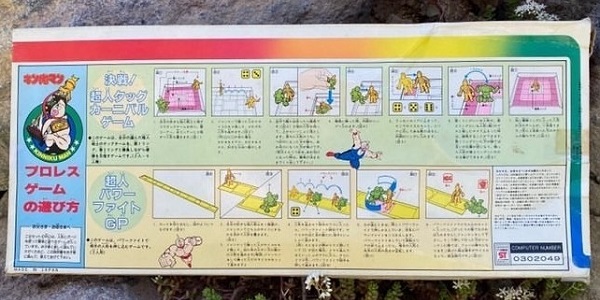 ——————————————————————————————————-

Did you figure it out?

——————————————————————————————————-
Thanks to Namu Niku (one of the original M.U.S.C.L.E. influencers) we have learned that even the splash art was copied.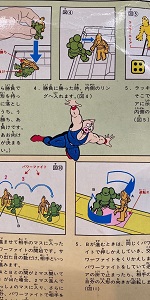 The iconic flying MUSCLEMAN that graced 4-packs, 10-packs, 28-packs, and just about anything M.U.S.C.L.E.-related was copied. It was copied from the back of a Japaneses 28-pack from 1984.
This should be a tremendous shock to every, single M.U.S.C.L.E. collector! I know that I was blown away.
The 1984 release of this 28-pack would have coincided with Mattel's trip to Japan. This would have been one of the items they held in their hands.
WHY Mattel selected this image to be the "face" of the M.U.S.C.L.E. brand is certainly an interesting question. And one we may never properly answer.
I would expect cynics to certainly scream, "But it doesn't match exactly!"
No, it doesn't. But I think that actually solves another 28-pack problem. There were four hypothesized 28-pack combinations:
Logo, Poster
Logo, No Poster
No Logo, Poster
No Logo, No Poster
The face, on Mattel's box, doesn't look exactly "right." For some reason Mattel wanted a change; maybe to look less surprised.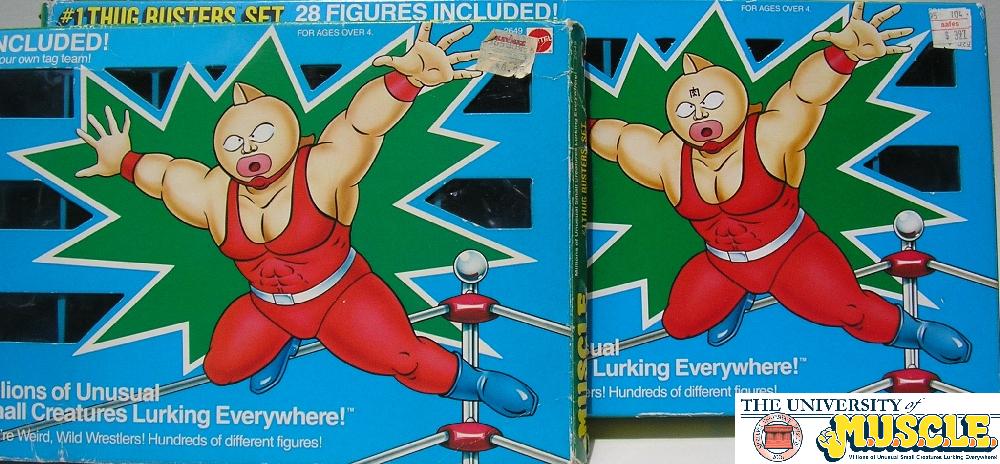 I'm guessing that the first box feature the Logo, No Poster combination. Then the poster was released and it was added to the back of the box. The final version removed the forehead logo and kept the poster offer.
There was never a No Logo, No Poster because a fourth wave of boxes were never printed. The line was already killed by Mattel.
In the meantime M.U.S.C.L.E. collectors need to shift into detective mode. Could more Mattel art be hiding in plain sight? This image pulled it off for 36 years. What will we discover next?
Namu Niku has a possible idea.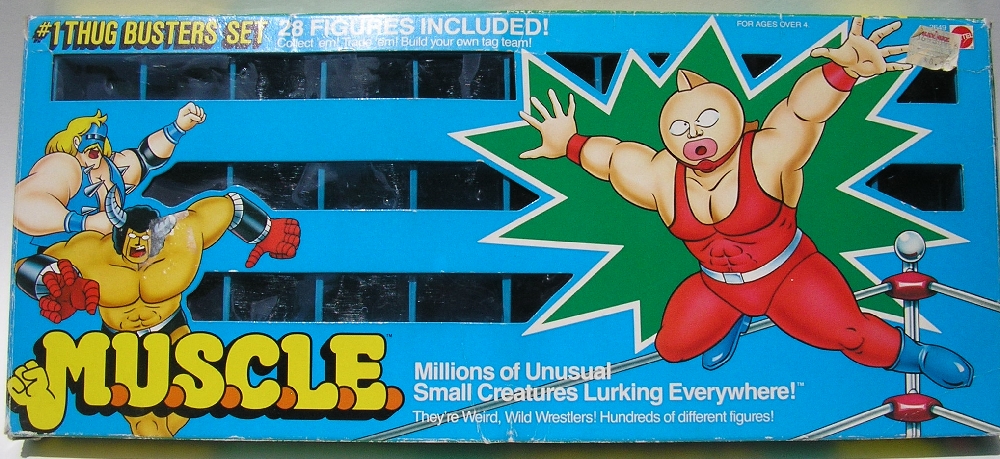 Take a look at Terri-Bull and Neptuneman on the front of the 28-pack. What if those aren't original either?
Could they come from the Part 3 box?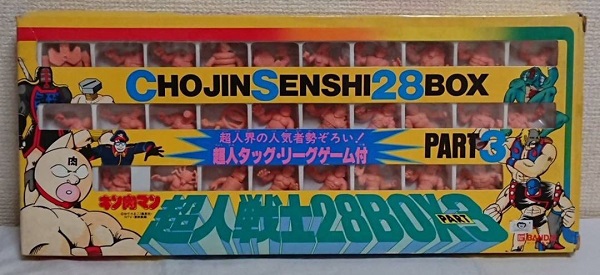 Terri-Bull is in almost the exact same pose as Brocken. And Neptuneman is in a very similar pose.
Admittedly, it isn't the same slam dunk as Muscleman – but it is the best guess with the data we have.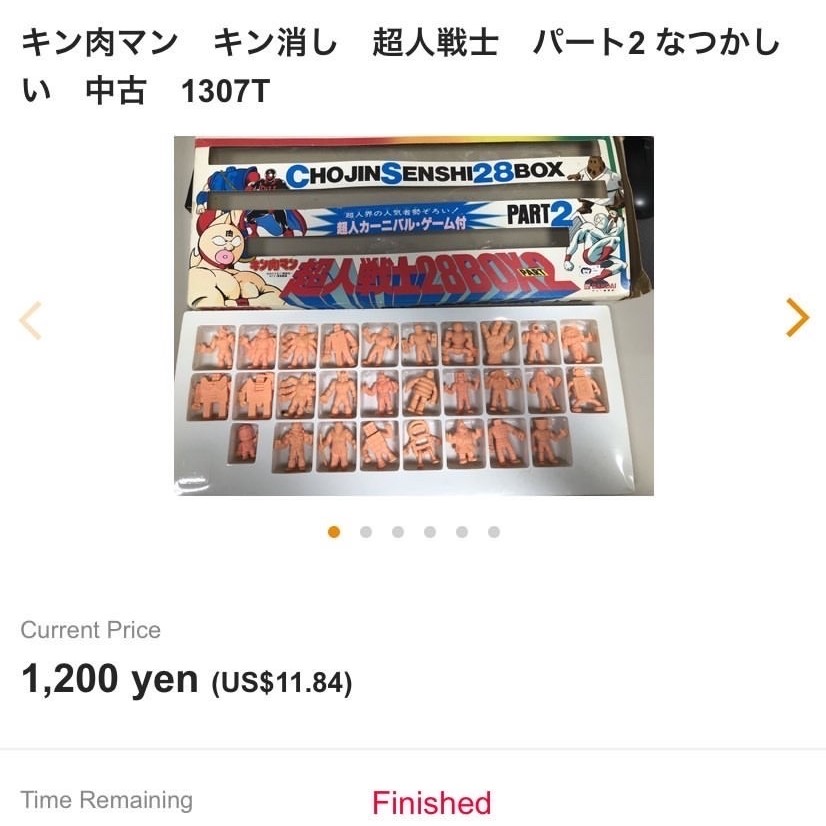 There's a wonderful footnote to this discovery. Namu Niku was able to purchase the box for $11.84.
M.U.S.C.L.E. collectors get enthralled in high figure prices. I think many collectors believe paying those prices is the only way to "participate" in the M.U.S.C.L.E. hobby.
This is a great reminder that M.U.S.C.L.E. doesn't have to be expensive. I remember seeing a new collector defending spending $25 (I think) on one page from a magazine that had the Quik advertisement. I spent less than that to go through all of the 1986 He-Man magazines.
One of my favorite, but rarely appropriate, words is: flaneur. I think it carries a more negative connotation, but I've always held a special place for it. I always thought of it as a positive title. A term for a person that can slowdown and appreciate the little things around them.
This discovery was made because Namu Niku is a M.U.S.C.L.E. flaneur. I try to be a M.U.S.C.L.E. flaneur. And I hope his discovery helps other people become M.U.S.C.L.E. falneurs too.