It was another busy week. The exhaustion makes me want to complain, but I'm exhausted from all great things.
However, I can't deny being tired. When I'm tired my fuse is much shorter. That might be why I so readily agreed with this AOTW nomination.
You would probably be surprised how often I get AOTW nominations. Sometimes I've already seen the same thing; sometimes I disagree; and sometimes I'm served up a perfect nomination. This is a case of the latter.
Here's the auction:
M.U.S.C.L.E. Men Figure SUPER RARE Ashuraman Muscle Men Figure Toy
. Normally this type of listing would get a snarky comment as I took a look at the various eBay M.U.S.C.L.E. listings. Collectively we'd probably roll our eyes at another uninformed, greedy seller.
That's not the case this time. A very nice, very polite M.U.S.C.L.E. collector tried to inform the seller he had made a mistake. (I'm omitting the collector's name and eBay ID because there's no upside, that I can see, to sharing it.) The entire interaction is available to read in the picture below.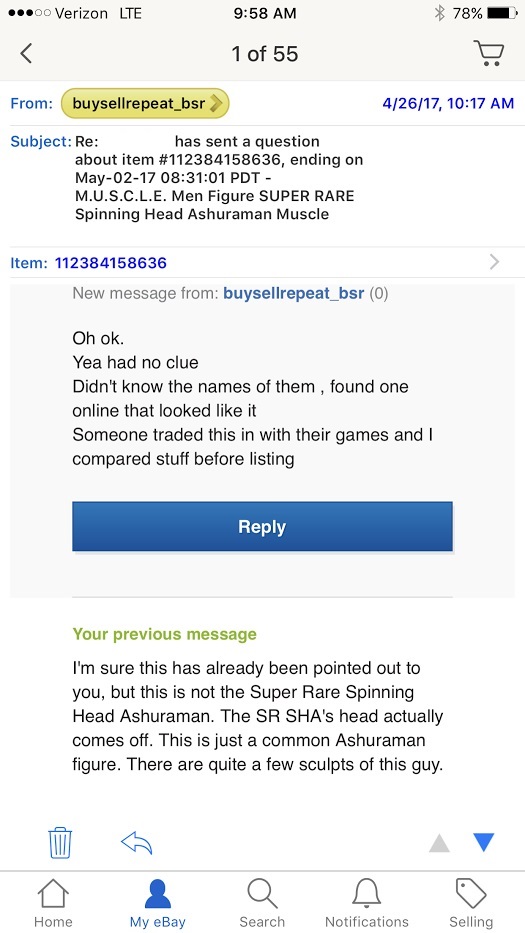 Pleasant. Direct. Informative. There's nothing wrong with the M.U.S.C.L.E. collector's message.
Even the response from the seller is ok. He seems to admit he clueless – and there's nothing wrong with that.
But then he doesn't change anything. He just leaves it exactly the same. No edits. No price reduction. Nothing.
I am bewildered by peoples' ability to ignore information. I actually wish I had that ability. It must be so blissful. I learn new things and it reshapes my opinion, or forces me to learn more, or compels me to re-examine my own thoughts and opinions – it causes me some type of reaction.
I imagine you would see this seller on the street wearing shoes on his hands. He wouldn't have a single doubt about his choice. In fact he'd probably be happy and confident about it. Lovingly a stranger would come up to this bloody, barefooted, shoe-gloved man and say, "Those actually go on your feet. That way you're feet won't get anymore cuts."
"Yeah, I know – right."
The stranger would just watch as more and more bloody footprints are left behind.
– "The plastic covering on the card has come loose so I taped the covering to the card." So…$16 for four, Flesh figures?
– Finally! My "👹👺😈☠️💀👊" search term paid off.
– 184 M.U.S.C.L.E. figures.
– Way too crazy high.
– I like the $0.99 auctions.
– The sixth picture sells the lot. Good choice.
– This is just the AOTW doubling-down.
– $120 for 28 smokey figures. (Read the last line.)
– Weird.
– What is happening?
This is two weeks in a row with a weak ending.