Sunshine Arch (M.U.S.C.L.E. Figure #15)
By Professor Terry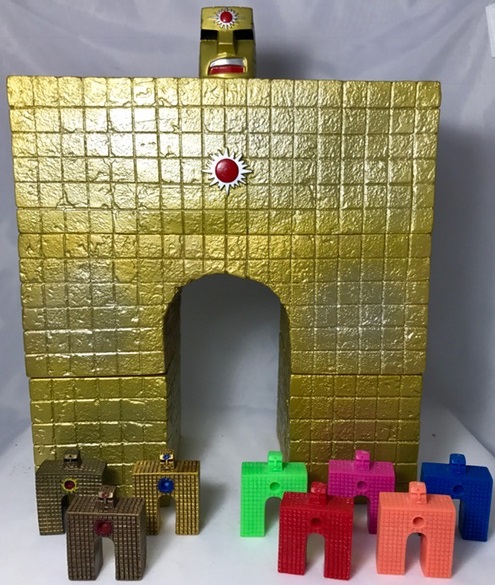 This week MMMM returns with an all time favorite of mine, the Sunshine Arch (M.U.S.C.L.E. Figure #15).
The Sunshine group of figures have always been among my favorites, none more than the Arch variation. This is primarily for two reasons: (1) that I can display him properly standing up; and (2) he has one of the coolest Romando pieces available out there.
Lets start by talking about the first reason – as much as I like the M.U.S.C.L.E. #195 Sunshine and the fact that you can actually spin him like a top, it's really hard to display unless you lie it on its side or find some blu-tack to prop up the spinner. I find the #107 figure even worse to display and it's also the sunshine variant I like the least. The M.U.S.C.L.E. #15 or arch just has more display options, I sometimes stack them on top of each other as it's possible with this figure!
The second reason I like this figure quite a lot is the awesome Romando form it has. Now, the Romando is not without its faults. The bottom part of each arch is detachable, I assume it's this way so it could fit in smaller packaging, however I really wish the whole figure was just one piece with the only articulation being in the head swivel.
Other than that though it's a pretty impressive Romando and fairly well made. The coloring and paint job is striking and looks quite imposing among my other Sunshine figures. It's very close to being the tallest one in the collection too.
There are three custom painted Sunshine Arch figures in my collection too. Admittedly, there isn't a lot of variation in the figures due to the Arch being gold or yellow and no moving parts. These three are a different shade of yellow and the sunshine logo is a different color in each but I'm happy with them and they fit in well with the other Sunshine figures as well as the Romando. I actually display these figures on top of the Romando.
My collection of Sunshine Arch figures is complete apart from the Purple M.U.S.C.L.E. figure which I used to own but parted with, I'll try to add it again someday.