[instagram url=https://www.instagram.com/p/BdL3i0dFAQZ hidecaption=true width=320]
I feel an uncontrollable urge to start this post with a confession. I was wrong.
Owning that single figure brought me greater happiness. It brought greater happiness to my entire family. It made my wife cry. It made some dust blow into my eyes. That figure gave me one of the sweetest Christmas moment ever for my family. It was the first time that each one of us were a part of the magical feeling of Christmas.
Saying thank you to Chuck feels massively insufficient. He's provided an experience to my family that will be a Christmas story for generations.
"What's so special about this figure?"
I can't imagine there is anyone, still reading this post, that doesn't know why this figure is special. Just in case, however unlikely, I will quickly explain. This Magenta #161 figure was one of the Final 9 Figures Needed for UofM Figure Guide.
My boys were thrilled that the magic number is down to eight figures. I always imagined collecting the final figures for my Master Set would be done alone. I was so wrong that I can't properly articulate it.
The final figures can only be acquired collectively. It will come from the kindness of friends and strangers. It will involve my wife and my sons. Big or small; it will become a part of my family's story. I never expected that would, or could, happen.
This story was shared when we hosted Christmas this year. My boys told it. My wife told it. I told it.
The reactions, usually after explaining what a M.U.S.C.L.E. figure is, were the same, "Oh my God, that's so nice."
The more emotionally-connected family members also said something like, "That's a Christmas miracle. That's so beautiful."
I agree.
I wasn't really sure how to end this post. It feels like I should copy-and-paste "Thank You" until the website crashes. Since now we're in this together I asked my family. My wife said, "Did you even tell them how you got it?"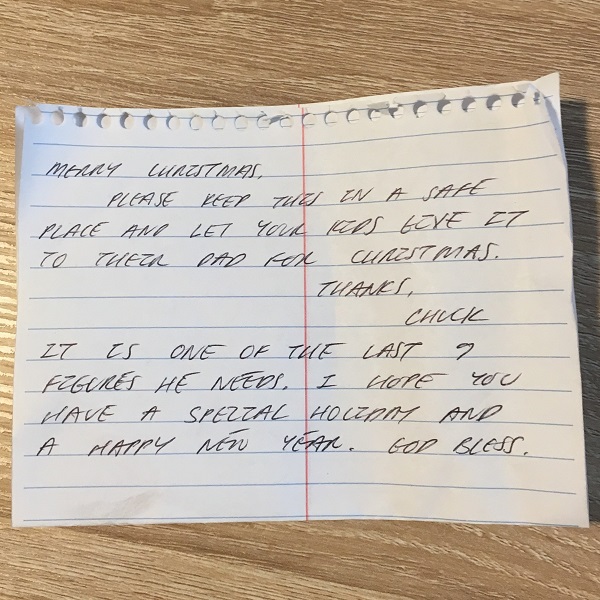 I thought I did. She meant how it arrived. It wasn't my story to tell. Here is her story:
I didn't know what to expect when I saw a package addressed to me – that I didn't order. I took it in the car and opened it, at work, giving it little thought.

I had to read the little letter multiple times to understand that a stranger had sent a little pink figure to my husband as a Christmas surprise. All it said was to give it to him from the boys and now he only has 8 to go. It was from Chuck. I don't know Chuck. But he clearly reads this blog. And I want to say thank you.

Not only did you make Chad's Christmas but your generosity and kindness showed a couple of little boys the true meaning of Christmas. That is something they will never forget.
Thank you and Merry Christmas Chuck. My family will always see Magenta #161 as a symbol of the true meaning of Christmas.