Custom and Bootleg Figures
By Professor Terry
I was going through some figures on my display case, trying to make some more room and maybe put some of the same figures together when I came across these.
The custom figures in the first picture of Purple & Magenta Satan Cross plus the 3 green smaller figures are done by Marty Hansen AKA The Godbeast. Well I'm pretty certain anyway, it's been a few years. I can tell you all they are hard plastic but very detailed and very similar to the originals except the 2 Satan Cross figures do not have the little hole in the back. I really wish I had bought more figures from The Godbeast back then. However he was just finishing up with all his custom figures as I started becoming a M.U.S.C.L.E. collector. It's only now years later that I can truly appreciate what a master he was at custom figures. I once saw a bunch of different colored Announcer figures and still regret to this day not buying them! Think I just missed out on a bunch on Ebay too.
The second picture of figures has a more interesting story to them. They are bootlegs from outside the USA and most definitely from at least 2 different countries. The 2 American Rugby Boss ones are certainly from Mexico, I won them on Ebay from a Mexican seller and they look like many other Mexican bootleg M.U.S.C.L.E. figures I've seen. The sculpt quality is pretty poor, particularly in the face/helmet area. However, they were cheap and I'll take anything figure #134. The Magenta #155 I'm not 100% sure of where he came from. It is a hard plastic figure but the sculpt quality is a lot better than the Mexican ones and his color is very close to M.U.S.C.L.E. Magenta. However, he is not a custom figure. The plastic is too light and the figure is slightly smaller than a M.U.S.C.L.E. I'm really happy I own it as it's as close to a Magenta #155 as I'll ever get.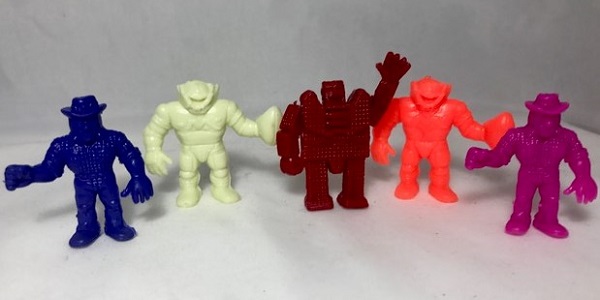 The last 2 figures I know exactly where they came from and I think it's a pretty cool story. The Red #3 and Purple #155 bootlegs actually came from Brazil. They were brought back from there by a local fellow I met here in Brisbane, Australia who contacted me through Instagram about mini figures in general. He saw my collection of M.U.S.C.L.E. and said he had seen some similar ones in Brazil when he was growing up as he is from there. This year he traveled back to Brazil for holiday and while there came across figures he had from his childhood. He brought them back to Australia and gave them to me! The fact they are 2 figures I really like was a bonus. To me this story proves that although M.U.S.C.L.E. is a small hobby in terms of number of collectors, it really is a world hobby. So many different countries have had a turn producing some figures, some with better results than others. I'm so happy to own all of these figures and although they're not worth much to most, I cherish them and you can't put a price on that!