The human animal is fascinating. It is probably the biggest reason I became a psychologist. That is why I am always excited when the human animal surprises me. I had it happen at work several weeks ago and it was awesome. The exchange ended up being a powerful moment and teaching tool that has expanded far past that session. I simply love it when the human animal surprises me.
I know I've said it before, and this probably isn't a surprise, but the absolute number one question emailed into the website is some version of, "How much are my M.U.S.C.L.E. figures worth?"
The number two question is some version of: "What is this?"
Sometimes they are bootlegs, SOMA figures, or a M.U.S.C.L.E. figure they can't identify. These emails don't tend to need/want anything more than an answer. For example, here's an email I received last week:


Hi, I purchased these figures recently, and they are clearly MUSCLE-inspired, but I can't seem to find any information about them. Any chance you can you point me in the right direction?

Thank you!
Believe it or not, I try to be timely with my responses. I couldn't get to this one:
Sorry for the delay. I've been busy with work. They are USA Wrestling Team by Ja-Ru.

Chad
His response:
Thanks! I appreciate your response. Take care!
That's basically how every "What is this?" exchange has gone since the website started. Then the human animal surprised me. Here's how it started: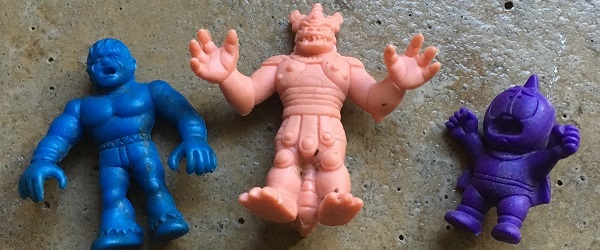 Here's some figures I can't seem to find on your page. Hope you can help. My contact info is 585-378-06XX and my names Logan. Any info would be gladly appreciated
Simple enough. And very easy to answer:
Purple #189: http://blog.uofmuscle.com/29160/muscle-figure-189/

Flesh #177: http://blog.uofmuscle.com/30836/muscle-figure-177/

Dark Blue #29: http://blog.uofmuscle.com/tag/29/

Chad
Then, about 40 minutes later, I got a surprising response:
Yup I saw where they were on there, but can't find any values and there's none for sale on eBay or any in the sold listings like these ones.
Then why did Logan say he couldn't find them on the site? It sounds like he wanted to ask, "How much are these worth?"
But he didn't ask that question. Thirteen minutes after the previous email, I got another email:
Was hoping you could give me an idea. I've seen #189 in flesh and blue sold, but never seen a purple one sold.
Only 34 minutes later there was another email:
Wow great thanks for all the help. You sent me links I've already looked at and kind of come off like a dick considering I asked you for info, not just your website page that doesn't give any information about pricing or scarcity
After only about an hour they are mad at me. The human animal has raced past surprise and officially blown my mind.
This may surprise you, the reader, but this website is not my number one priority. It probably doesn't even crack the Top 50 – which you likely assumed given the lack of posts lately.
Back to the emails, what is most surprising to you about the above email?
There is the initial sarcasm. Logan is upset that I answered her initial question and did not effectively read his mind. Apparently, they already knew what the figures were – but were looking for "scarcity" and "pricing" information. Damn it. If only the website had that kind of information.
Perhaps, most surprising, they emailed me again three minutes later:
There's never been another purple #189 ever sold anywhere so I don't think you know much about the rarity. I would think something that there's no actual record of one sold would be worth a substantial amount more. I don't think you really know much about them
When I first read all these emails it was a day later. I read them all at once in a chain. I audibly laughed when I got to this one. It still makes me smile.
Are they are lashing out because they want their Class C Purple #189 to be a priceless artifact? Often I wish I could get inside the mind of eBay sellers. To my surprise, through these emails, I think I was gifted some insight into behavior I don't understand.
The human animal did not surprise me when there was the accusation that I don't know much about M.U.S.C.L.E. figures. I think that's the final salvo when people don't like what I've said about M.U.S.C.L.E. figures. It's usually preceded by, "Enjoy your stupid little pink men in your mom's basement!"
The M.U.S.C.L.E. hobby is nothing if not predictable. For better or worse, M.U.S.C.L.E. collectors can get used to what they are seeing in the hobby. That's why it can be nice to be surprised. A lower selling price. A crazy email. A new Non-Poster figure. Or a Body Building.
A quick search of Logan's phone number suggested he lives in Olean, NY. Do you think this could be the same Logan? That surprise would actually scare me to death. God I love the human animal.