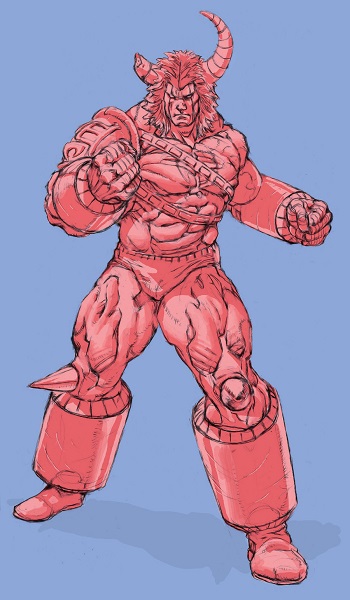 I received quite a nice surprise late last week. Danny Cruz sent some kind words about the website and an actual piece of art. I couldn't remember the last time a piece of fan art had been spotlighted.
The most recent painting/drawing update came about two years ago from Mike Hopton. He was masterfully painting figures and that feels different to me. The last time there was an actual drawing was from about three years ago featuring Phil Postma's card backs.
Can you believe I ever thought I could catalog all of the M.U.S.C.L.E. fan art? I do think I came pretty close with everything before 2006.
Back to Danny's recent submission. Here's why he sent it in:
I'm an artist who grew up in the 80s and collected Muscle figures (among other lines). As an adult, I collect the SH Figuarts Kinnikuman figures..they're pricey and I just hope for my wallet's sake they don't start doing pink variants lol. Anyway, love the blog and just wanted to share this piece of fan art I did.
Danny's art was certainly inspired from his M.U.S.C.L.E. childhood. I'm sure many M.U.S.C.L.E. collectors wish the project below had happened.
I actually had the idea a few years back, to put together an art book with my own weird original designs with all of them being pink with that blue background. It would've been along the lines of Hobby Japan's Creature Core book mixed with that goofy, weird and cool Muscle aesthetic…with kind of the endgame being having them produces as little figures. This piece below was actually intended to be the first of the character designs but, I didn't get a chance to follow through due to being too busy (I work as a character/creature designer for various tabletop war-game miniature companies).
Thanks again Danny for sharing your art.
If you're feeling inspired thanks to Danny, then please share your art and send it to UofMUSCLE@gmail.com.