Are you guys ready for 2019? Well, you better be ready. We're four days in and there's no sign of stopping.
2019 is kind of cool for this website. On June 16th, 2019 the site will officially turn 10 years old. Wow. That's hard for me to believe.
Do you know what is embarrassing? The site was born out of this hot mess. I would take the site down, but why even bother? Has anyone gone to a Tripod site in the last decade? If it came up in search results I'd instantly think, "I'm not going to that site. That's giving my computer a virus for sure."
Since 2016 I've given some Xmas winners and losers, according to my boys. Maybe I did it before that? I didn't find any. This year really felt like we're starting to age-out of toys and action figures, which bums me out a little bit.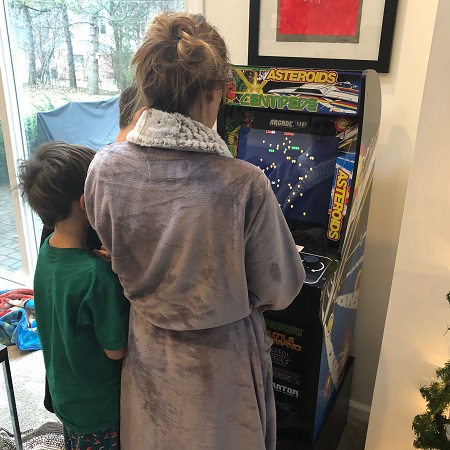 The upside is that they are getting into some very fun games. At the top of that list is Exploding Kittens. It is a simple game, but incredibly fun – our family loves it. Everyone we have ever played it with loved it too. If you already know the game, then make sure you pick-up both expansions (Imploding and Streaking).
Bears and Babies is another hit. My oldest is slightly frustrated with it because he can't figure out the best strategy yet.
The final winner, and partial loser, is the 12-in-1 Arcade 1Up Cabinet. My boys love classic video games. They've had a few friends over that "didn't like the graphics," but they always defend with, "but it's a fun game!" I know it wouldn't be for everybody. For example, my oldest (11) loves Lunar Landing because it is so hard and unforgiving. My youngest (8) hates it for the same reasons. Building it was easy, I like the smaller scale (we used the riser, and need to buy a bar stool), and it is sturdier than I expected. The only downside is that not all of the games save high scores. That may not matter to some people, but it really pissed off my oldest.
Also, my "H" key on my work computer is not always working. I fucking ate it. Let's take a look at the eBay dumpster fire.
– Wow. Here's a SHA starting at $0.99.
– This seems entirely too high. What am I missing?
– Starts at $0.99 – with $11 for shipping.
– If Super7 is still selling all of its stuff, then doesn't this look like buyers' regret?
– Couple weeks and still unsold. Guess we know repo-Haulers have a ceiling.
– Why keyword spam? I'm not buying this.
– Did this price go up?
2018 ended and we crowned our first
ULTIMATE AOTW Battle of the Champions Fatal-Four Way winner
. If the pace of a yearly winner continues, then in 2021 we'll have our first
ULTIMATE
AOTW Battle of the Champions Fatal-Four Way match-up. In the meantime, we need to crown this week's AOTW winner.
The AOTW #1 is a fine, open 28-Pack with a hilarious $90.24 BIN. The AOTW #2 is a 4-pack with an opening bid price of $125.
The AOTW #3 is a Salmon #207 figure with $24.99. It is a Class C figure that is worth, at most, $1. Finally the AOTW #4 is a lot of 280 nearly identical MUSCLEMANIA figures with a $280 BIN. One dollar per-figure isn't bad for a MUSCLEMANIA figure, but there are probably only six unique figures in that lot.
Cast your vote and crown this week's AOTW Fatal-Four Way winner. Here are the four combatants:

| | | |
| --- | --- | --- |
| | vs. | |
Remember to cast your vote and crown this week's AOTW Fatal-Four Way winner:
[poll id="54″]