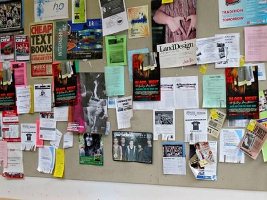 Fridays, Saturdays, and Sundays have historically been quiet times for the University of M.U.S.C.L.E. I thought it might be interesting to post some links to various auctions, older posts, message board threads, and anything else that might be interesting to M.U.S.C.L.E. collectors.
If the University of M.U.S.C.L.E. has been constructed in the style of a college or university, then these weekly posts should be thought of as the thing on campus covered with posters, stickers, and announcements.
– Sad story. Good kid.
– A full review is coming Monday, but check out this and this and PLACE YOUR ORDERS NOW!
– Has there ever been a better M.U.S.C.L.E. painting?
– Sealed color 10-Pack for sale on eBay.
– New manufacturing error figures wait to be added.
– How sleep deprivation gives you a case of optimism and triggers risky decisions…in collecting (I added the last part.)
– An interesting 30 day challenge.
– Just in case anyone was inspired by Wednesday's post.
– Nice lot of 200 figures.
– Seems like a good price for a seemingly unbroken ring.
– The worst M.U.S.C.L.E. craft ever?
– New 9/11 Video
– Have you bought your Fruit Fighters yet? I\'d suggest a full Flesh set.
– Does the NFL ever step back and think, "God damn we're assholes." (Yes, it's the right link)
– Tiger vs. Lion – Winner: Tiger (I'm both disappointed and relieved this isn't a video – and proud I didn't make a Charlie Sheen joke!)
– Half Bad Toyz shares more of their custom 10-pack project.
– Turns out $210 for 4 10-packs and a display case was a real bid. Wow.
– I wish this had been around before I spent $100 on Yo Gabba Gabba figures. Damn it.
– Print is dead, but this seems like a great deal.
– This seems even better.
– King the 200 Ton – by Namu Niku (Tyler)
– Awesome M.U.S.C.L.E. custom you'll never own.
– Awesome M.U.S.C.L.E. custom that you might get to own (both from Rampage Toys).
– Let's force Rampage Toys to cast some of these!
– Z.O.M.B.I.E. – very cool.
– Zombie Ants – very NOT cool.
– SO close to being the perfect story.
– If you sell meth, don't buy comics. Please don't buy M.U.S.C.L.E. figures either.
– Just a friendly reminder and suggestion.
– Maybe I should end with this every week?