I know it makes me evil, but I could watch this poor kid all day.
It embarrasses me how much I enjoy domino or cards falling. Anytime I see it I am joyfully happy. It's terrible, I know. My wife was once trying to set-up some dominoes for my oldest. He couldn't wait to knock it over and watch them fall. Every time she accidentally knocked them I laughed. Finally, she was almost done – and then knocked them over. He had been waiting so long he simply burst into tears.
I burst into laughter. I couldn't help it.
Apologies didn't work. Ice cream was the only thing that saved me.
UPDATE: A late addition, but you can't miss this auction!
– I've seen these for Star Wars, but never UM – pretty damn cool in my book.
– I feel this person only wanted to be the AOTW. That why he's not.
– I LOVE the 39¢ Pic-n-Save price tag on this!
– Most people will focus on the #153, instead of the price tag, on this one.
– 76 Flesh and Color figures.
– "They are all different and there are some that I have never seen before, though I am not an expert on these figures, I have dealt with them before."
– Will this sell? I say no.
– I think this Satan Cross has a better chance of selling.
– Was this auction re-listed? I feel like I've seen it before.
– "Mint-includes all pieces…" Umm…I don't think so.
– Want a pretty good looking 4-pack for $3? This guy has some.
– Starting at $0.01 will always get a thumbs up from me.
– Two thumbs up! Starting at $0.01 and free shipping!
– Another double thumbs up!
– No thumbs.
– If I'm a #3 collector, then I snap this up.
– I can't believe this auction lost it's AOTW match-up.
– I pointed out what I thought might be the best mixed lot ever. At the other end of the spectrum, this might be one of the strangest.
– I'm always looking for cheap Lego sets, I thought this was ok.
I'm struggling. Who is the most worthy AOTW challenger this week?
My first thought was the Red #7 from Auction Watch #151. Then I saw the $1,000 guy from last week had dropped his price to the low, low price of only $900?!?! I thought we were going to need another play-in game.
But then I found this guy, and he made the choice easy. Nothing like a "rare" Class B #60 with a $149.99 BIN.
Here's the next AOTW match-up of 2014. Don't forget to vote in the upper right hand corner.
I fully understand this is a commercial, but I'm still going to encourage you to watch it (you don't have to watch the whole thing, you get it after a few seconds).
It's brilliant. Sure there's the happy baby angle, that's fun. But it's the first time can remember watching a commercial and instantly thinking, "I should buy that." And how brilliant to market that product to parents. Honestly, I thought only douchebags bought those things.
And before you complain, I based my opinion on things like this:

But now I think, "I should be one of those douchebags! But I'll use it with my kids." Now…what could Dr. M.U.S.C.L.E. do?
Think I'm joking? Here's the one I would get.
To wrap things up this week I have included another completely indulgent picture. However this one is indulgent because I'm just sharing one of my all-time favorite pictures.
Hopefully most people think it is, at least, moderately strange or interesting. Truthfully, the story behind it is probably funny to, at most, four people.
This picture is probably ~15 years old. It was taken on Halloween and if from one of the dozens of stolen disposable cameras I confiscated from 1996 to about, maybe, 2001 in a drunken stupor. My friend and I were cutting through a dark parking lot and we stumbled up these two people making out. They didn't budge as we walked by them – didn't even acknowledge us. It was pretty strange because it was like running into someone, while lost in the dessert, and pretending like you don't see them. Motherfuckers, we're right here!
So, on Halloween, with a stolen camera, carrying a case of cheap beer, and covered in blood we did the only sensible thing. We took the greatest Halloween picture ever.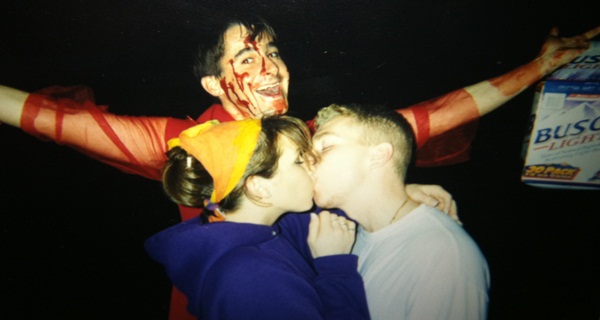 On a bummer of an endnote, I miss my friends.