M.U.S.C.L.E. Figure #139 (Mokosejin)
by Professor Terry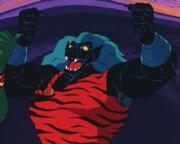 Finding out who M.U.S.C.L.E. figure #139 is in the Kinnikuman storyline is difficult. I finally discovered that his name (Mokosejin) translates to Tigerian. But then there are two different pictures of him! The first is what the M.U.S.C.L.E. figure looks like – but WTF is the 2nd one?
Now I really wish that I had the first picture when I had these two customs painted up. I like my custom painted figures to resemble the character on the animated show.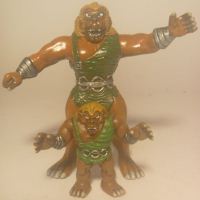 Nonetheless, I love the two custom painted Mokosejin figures I have because the color scheme suits the character to a tee. And the two of them look really cool on my shelves. I've actually put them in a separate corner to the other painted figures because they stand out that much.
And that's all I've been able to get of this figure – apart from the M.U.S.C.L.E. figure and the Deka Kinkeshi figure (which isn't an easy one to find). That's it!
No Romando, no 5 Star, no SD Kinkeshi, no Great Kinkeshi – nothing! It's really quite disappointing as it's a cool looking figure that looks like he could be a part of the Thundercats series. Even the name Tigerian suits that line of figures.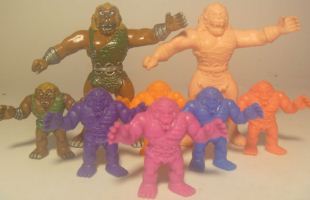 Out of all the chunky Part 11 Kinkeshi figures that were made into M.U.S.C.L.E. (including 68, 104, 125, 131, 133, 134, 135, 136, and 140) this one is one of my favorites because he doesn't have that alien look of some of the others in Part 11.
Plus tiger figures, in any line, just look pretty cool!