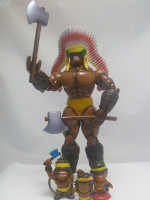 Geronimo
by Professor Terry
This week's topic for MMMM is the Geronimo figure. I did talk about the Shouting Geronimo, which is a favorite of mine, way back in MMMM #4. This time the topic is about the other Geronimo figures available- including the two M.U.S.C.L.E. sculpts #123 and #184.
I really don't like either of the M.U.S.C.L.E. sculpts. I have collected them all as part of my M.U.S.C.L.E. collection but that is it. Geronimo didn't interest me from a collecting standpoint until I saw the Romando version. This figure has a headdress and two axes. I find the Native American clothing really interesting and I love the headdress. My first thought was, "Why on earth didn't M.U.S.C.L.E. produce a figure like this?" It's a really well made Romando.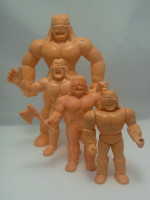 The next time I came across a Geronimo in Native American clothing was when I bought the 418 piece Kinkeshi 29th Anniversary box set. The set included two Kinkeshi Geronimo figures that had the headdress on. I immediately set about trying to find the original Kinkeshi versions. One was quite easy to locate and the other one, from Kinkeshi Part 29, really difficult to find. I count myself lucky that the Part 29 Kinkeshi was re-released and I could own another three versions figures of the Geronimo quite easily.
As far as I know, that's it for the Geronimo in full Native American regalia which is a shame. There are, however, a few more Geronimo figures that are worth noting. The 6-inch Great Kinkeshi in particular and the little Banpresto stand out for me as figures worth owning.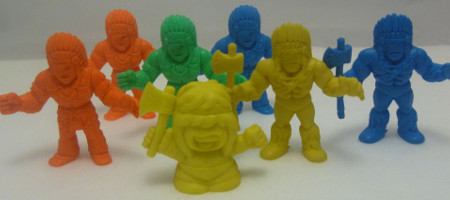 Most readers on this site would recognize the Purple #123 figure. What you might not recognize is the Dark Blue #123 on a stand. This actually comes in the Japanese version of the Kinnikuman board game. It's completely different from the original M.U.S.C.L.E. board game. I haven't been tempted to buy it so the reason I own this figure (and three others from the game) is that they just happened to be included in a lot I bought. Funny enough, buying lots is how I have stumbled onto a lot of different figures in the Kinnikuman universe. I highly recommend purchasing this way.