The AOTW is a magnificently colossal asshole, but not for the reasons you might think.
The easy reason to award AOTW to this seller (justchilin) is his starting bid price of $1,199 for a Purple #153. But sellers with terrible starting bid prices (or BIN) are nothing new. This seller's starting price is so utterly absurd that it is laughable – and nothing more.
This seller is AOTW because he exhibited all of the behaviors that are most offensive to M.U.S.C.L.E. collectors.
By and large, M.U.S.C.L.E. collectors are a helpful group. When people are looking for information about their M.U.S.C.L.E. figures most collectors will help novices. Some collectors will attempt to swindle novices, but that is another discussion.
About a month ago when justchilin first shared his amazing discovery collectors were helpful and happy for him. It looked like he was going to keep and enjoy his popular discovery.
Roughly a month later he was ready to sell. Transparency is always the best policy. If selling was always the strategy, then it would have been best practice to share that from the beginning. This action does not make a person an asshole, but honesty builds goodwill with buyers. It's simply a seller's best strategy.
The AOTW behavior started, even if collectors didn't know, once justchilin started talking about his sale:
Just posted mine one the 'bay, hoping for a good outcome. Any hardcore collectors out there, check it out. Need to pay some bills! 😉
Needing to pay bills is meant to evoke sympathy. Sharing that information is meant to make buyers feel like they should spend more, because they would be helping someone in a difficult position.
M.U.S.C.L.E. collectors have a pretty good track record of helping other people. Making a statement like that would certainly evoke compassion from collectors.
Justchilin then doubled down on the NEED to sell it (text below highlighted for emphasis):
LOL! Yeah, I really dont want to sell it… but Im in a position that I have to… so if someone really wants it, its not gonna be cheap… and its TOTALLY worth every penny! 😉
Given the dire picture that was starting to be painted another M.U.S.C.L.E. collector suggested a simple and helpful suggestion. If you have to sell it, then start lower.
Apparently the need for cash wasn't as ominous as originally suggested:
Its ok if it doesnt, I can always relist it at some point if it doesnt sell. Im not going to sell it for cheap, though and Im sure you would agree. We'll see what happens, I might get lucky..:)
Suddenly the situation was not dismal. Suddenly there was blue-sky optimism. There was so much naïve optimism that the seller was actually hoping for the M.U.S.C.L.E. Ruse to work.
It does bother me when people lie about their selling intentions, but I would not have made justchilin the AOTW for it. I wouldn't have made him it for the price either. To me he is the AOTW because he was pretending to need help for his own personal financial gain.
I find that type of behavior to be disgustingly offensive. I believe it is one of the lowest forms of human behavior. AOTW is too gracious of a label for justchilin. His statements are deplorable. There are people that face genuine crisis in many forms. Lying about financial crisis and trying to take advantage of others is beyond disgraceful.
A piece of the auction description is literally the perfect encapsulation of the entire event:
I am selling it to cover some personal expenses that have come up, I know what I have here and have consulted with many collectors out there, so my starting price is where I will start. Ive seen very few of these go up for sale, mine is the only one this year that I've seen, and in my opinion, the best example yet. No real rush to sell it, so if it does, great, if it doesn't, back to my display it goes! 😉
M.U.S.C.L.E. collectors may disagree. They may feel this was too negative. They may prefer to simply ignore the entire situation.
I couldn't. I genuinely love M.U.S.C.L.E. figures and the entire hobby. If I see something this deplorable, then I have to say something about it. Thankfully my own stupidity has provided a counterbalance to the Epilogue so far.
[instagram url=https://instagram.com/p/BBNq1uTrwt9/ hidecaption=true width=320]
About a year ago I admitted that I may have lost the Ramenman with Dragon. It had been "lost" for even longer than that, but I was finally ready to admit it.
I had broken into cold sweats several times as I had been looking for it. There is no hyperbole in that previous sentence. It is 100% factual. I got nauseous when I thought about actually having lost the figure. My leading theory became that I had accidentally thrown it away. I had a small mess by my table in the basement. It continued to grow and grow. And many great figures were scattered around the table. I feared the figure simply fell into the trash when I finally cleaned up. There was enough chaos around the table when I cleaned up that it did not seem crazy.
My irrational fear was that I had accidently mailed it to someone. The figure somehow magically and perfectly feel into the envelope/box and had been shipped to a random person. A person that couldn't believe my graciousness or stupidity (depending on the day).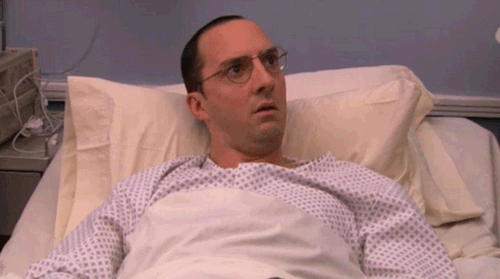 Where did I find it? In a box I had looked 100 times. The figure had oddly wedged between some 4- and 10-packs. It was perfectly hidden. I was in such disbelief that when I saw it my first thought was, "I don't remember buying a keshi version."
Thank God I found it. You can't imagine the feeling of relief when I found it. I am doing another M.U.S.C.L.E. collection clean-up this weekend.
The figure is in a safe until I am done.
Let's see what's up eBay.
– $0.99 and free shipping. Cool.
– 41 Flesh figures. Not bad.
– They said "set," but I think they meant pair.
– "Pre-owned?" Could a vintage item ever not be pre-owned?
– If you need a Flesh 4-pack, then this is your seller.
– This always had a terrible price, but I think the seller raised it.
– Not a bad lot for the boys, but I don't need to waste $20 on it. $10 would have got me.
– I choked on my coffee. I've never seen a person intentionally buy a Purple #208. Doesn't that figure just show-up in every collection?
– "Klaw." For the M.U.S.C.L.E. collector that can't spell?
– Are. You. Kidding. Me.
– If I was looking to add a few painted bootlegs, then I would probably bite.
– A super, super fun auction…for a handful of us.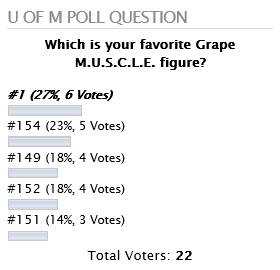 The poll from MMMM #66 has finally closed.
The results are what I expected with #1 winning, but I did not expect it to be so close. I thought we would see two clear favorites. I thought #1 and #154 would be those favorites. But it looks like collectors give the other figures pretty equal love.
Did that last sentence make sense? I know what I meant, but I don't think it is correct.
Finally the Super Bowl is this weekend. If you're a football fan, then you'll probably be watching. If you're not, then you may be curious and watch the commercials.
I doubt Sting will give us any sharks. That is probably the biggest bummer.