M.U.S.C.L.E. Storage
by Professor Terry
Question: What do you do for storage when you have over 1,000 M.U.S.C.L.E. figures?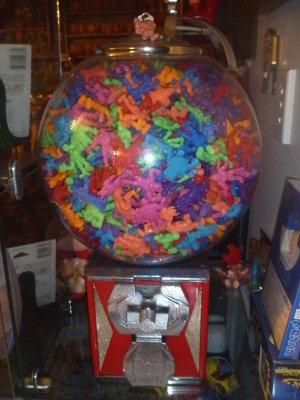 If you're like me, it evolves over time. I currently have them stored in a massive gumball machine I bought for $70. I took out all the colored figures I like and stood them up on display. Then the rest were put into the gumball randomly. Before that, I had the figures arranged in the gumball machine by color in a nice little rainbow. However I didn't like the look of it, it was too organized so just thrown in gave the figures more of a gumball machine look. The flesh set is of course separate.
Rewind 30 years, I kept the M.U.S.C.L.E. figures I had in a spare lunch box. That also evolved as the collection grew into a pillow case. It was easy to sling the pillow case over my shoulder as I rode my BMX down to my friends place to partake in whatever M.U.S.C.L.E. activity we were doing that day.
Back to the present, when I started collecting M.U.S.C.L.E. about five years ago, the collection grew a lot quicker and so a lunch box wasn't going to cut it. I very early bought two containers with four sections in each (a total of eight M.U.S.C.L.E. colors) and then filled them with all the figures I owned, nothing was displayed at all and it was quite a bit of fun as my girls were into the "new" hobby dad had of collecting colored figures. The figures were used to play "Hide the M.U.S.C.L.E. men around the house and then find them in the dark" amongst other colored based games.
Five years ago, my oldest girl was ten. Fast forward to now and a 15 year old girl wants nothing to do with any toy other than Funko Pop figures.
You can see how my storage options have evolved, I'm certain they will change again, it's just the nature of the beast – plus, I'm looking forward to opening the gumball machine one day and getting a whiff of 1000+ M.U.S.C.L.E. that have been closed off from the world – aah the smell……