Chocolate M.U.S.C.L.E.
figure. But if you're not, then you can't miss this super cool effort.
The figure comes from Lucas Rage; known here, affectionately, as the King of Counterfeit figures. The world seems like a perfect place when the King of Counterfeit creates a delicious looking chocolate M.U.S.C.L.E. figure.
I would argue that I am one of the most passionate M.U.S.C.L.E. fans in the world. But I don't know if I stack up to The King. He has made incredibly interesting discoveries, made fan films, and even made one of the coolest Sunshine costumes ever. He melted my cold, dead heart with his summer camp picture. And, maybe best of all for our hobby, he's a nice, positive guy.
I hope I wasn't too talkative with Auction Watch #204. I'm a little nervous as I get ready to look at eBay.
Speaking of AW #204, the #153 auction did get one bid. I guess the Claw wasn't a deal breaker. Do you know what is a deal breaker? Not voting on the "Which is the more bizarre #153 auction picture?"
Did anyone else notice I spelled bizarre wrong in the poll?
258 auctions came up in my search. I don't feel great about those results. I may need a new search to remove all of the new "M.U.S.C.L.E." stuff.
– Given the state of eBay, this isn't a terrible lot.
– Given the state of eBay, this is a lot.
– Mixed LRG lot starting at $0.99.
– If I knew I could get this lot for $60, then I'd be happy.
– Not a great Warp. Not a great price. Great choice for AOTW.
– Our AOTW strengthen his case with this BIN.
– "I am not an Expert if you know more about the item please let me know.." Putting that in your auction description seems like a dangerous invitation.
– Your son sounds like a dick.
– My eye was instantly pulled to the #157. Weird.
– "This is a must have for any collector!!" Why would anyone waste their time typing this? (Ha, that's the story of this site.)
4,192 BIN listings.
– It must be a collectible quarter.
– Did they copy this auction description form another auction? "hours of fun." and "get it fast, cheap and safe."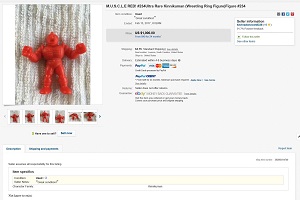 The SPAM filter for the comments on this site is pretty good. But things do slip through. When I saw this I thought it might just be SPAM. But it was too specific.
I was completely confused. Why would someone post that in the Comment section of M.U.S.C.L.E. Figure #182? It didn't relate to the figure.
That posting went up on October 26, 2016 – did it have something to do with that? I was super confused.
Thankfully Fisheye saved me. And I can't say anything better than what fuzzbuster said:
Personally, I find this type of half-assed research even more annoying than sellers that do no research at all. The guy clearly has looked into the information available to him, but has only retained random bits of reality that he has mixed into to his fantastic auctions.

And the description for the $1000 #141 paints a word picture second only in clarity to the set of nearly identical photos used to showcase said figure:

From the auction description :

Not know to exist.
I audibly laughed at this listing. A smile still creeps across my face when I imagine this seller getting excited as he's putting together the listing.
Oh my god. He has a new insane listing.
I rarely see FLAF's posted on Instagram. I was really excited to see both of these pictures.
| | |
| --- | --- |
| [instagram url=https://www.instagram.com/p/BQWaE8OBN9r/ hidecaption=true width=320] | [instagram url=https://www.instagram.com/p/BQdBgezgrw3/ hidecaption=true width=320] |
What should I end with? I guess this is it.
If you're a LRG member that often frequents the site, then you've already seen the