Infestors (Set 2)
By Ironhaus Productions and Luke Harris (Imperfecz)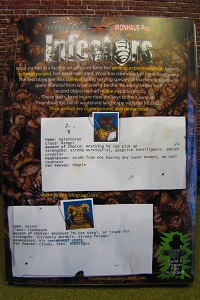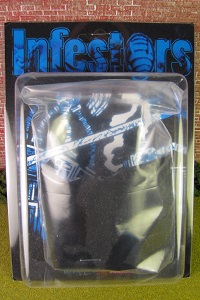 Objective:
The Objective write-up of the original Infestors post basically applies here too.
However, the back of the card provides specific information about the two characters (Oglethorpe and Gasser) and a graphic-splash revealing the second piece of the Build A Figure.
Subjective:
It's hard to really call this a review. It's June 2017. These came out in August of 2014. But I absolutely love them.
I would argue the Infestors are one the greatest, and most underappreciated line, of modern mini-figures. That's why I'm going to take the time to document the entire series.

Why would I make such a bold statement?
Because these figures found a way to balance collectability and playability within a single line. The Infestors really feel like a complete toy line. I believe, far too often, modern lines become too focused on collectability. They ignore the concept of fun. The figures can be technically superior, but forget to inject joy or a sense of fun. Even when fun is captured, the figures don't always feel cohesive. The figures feel like a collection from multiple lines of toys.
That's what I love so much about Infestors. They look cool, they feel fun, and they obviously come from the same universe.
I decided to start with Gasser because I think he has the most interesting face, so far, from the line.

I imagine some people could think it is too exaggerated. I would wholeheartedly disagree. I'm left with the feeling that this character is the crazy one in the group – the wildcard.
I might be overthinking it, but I think there's a joke here too. The wildcard has been given the most dangerous weapon so far. He doesn't have a sword or gun. He has a flame throwing-like chemical weapon machine. He is literally the last one that should have it. That makes me smile.
And I think Gasser is perfectly paired with Oglethorpe because he seems the most stoic. I feel like this is the yin and yang set. This pair needs each other.
Ogelthorpe feels like the Snake Eyes of this line.
I'm embarrassed. I'm struggling to expand on that thought. Either you get it or you don't.
Finally there is the Build A Figure piece.

With the first set, I felt like the piece worked pretty well on its own. I don't believe this one works as effectively as an independent figure, but I do like it. I believe the "middle piece" of a Build A Figure is the most difficult to make exciting. It's number one priority is linking the figure. I think this piece effectively gets you excited to see the figure completed.
I doubt these would be point-and-click orders, but put in the effort to get them. Tell Luke and Jimmy that you want these figures.
Oops, you can get the figures here, but they are slightly different versions.
You may already know these artists. But just in case you need to find more information, here are some places to find more information about Ironhaus Productions, check out these links:
– Ironhaus Productions on UofMUSCLE.com
– Ironhaus Productions' Store
– Ironhaus Productions' Blog
– Ironhaus Productions on Facebook
For more information about Luke Harris, Check out these links:
– Luke Harris on UofMUSCLE.com
– Luke's Imperfecz Toyz Store
– Luke's Imperfecz Blog
– Luke Harris on Facebook
– Luke Harris on Twitter