Infestors (Set 3)
By Ironhaus Productions and Luke Harris (Imperfecz)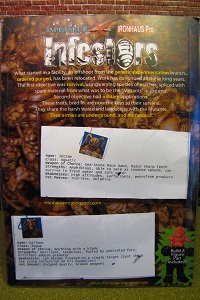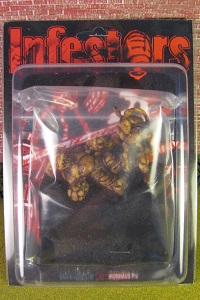 Objective:
The Objective write-up of the original Infestors post basically applies here too.
However, the back of the card provides specific information about the two characters (Jetsam and Gallows) and a graphic-splash revealing the third, and final, piece of the Build A Figure.
Subjective:
Like the Infestors (Set 2) review it is hard to call this one a review. These figures originally came out in September of 2014. Three years later I'm ready to share my thoughts.
But that should tell you how much I love these figures. I believe these figures are so great that they deserve the recognition – even if it is painfully late.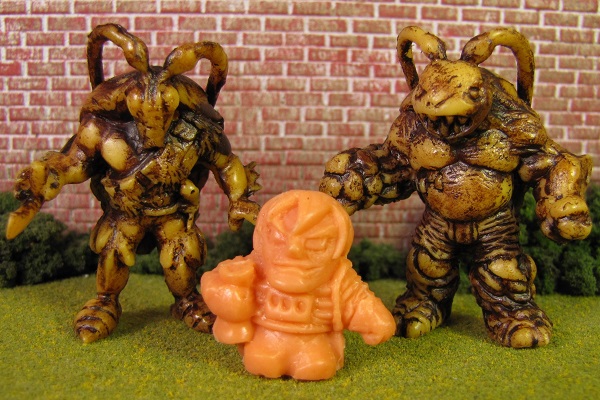 The sets always included two figures and one Build A Figure piece. This was the first time it felt like a three figure set. The third "piece" is clearly his own figure, but that wrap-up the "review."
First, I want to take a look at the Jetsam figure.
Jetsam struck me as the loveable lunk of the Infestors. I don't know if that was the intention. But I can't shake that impression. What does "loveable lunk" mean to me? It's a mix of Baymax from Big Hero Six and Groot sprinkled with some Booster Gold and Patrick.
I'm amazed that a set, that could have been, six slightly different bugs managed to achieve so much more.
Gallows is the only figure that someone could say looks like another figure from the set. Lazily, you could suggest the figure is similar to Kraagh. But that's like saying Salt and Pepper are pretty much the same because the shakers are similar.
I see Gallows and Kraagh being a similar, but different, pair like GI Joe's Flint and Duke.
I think my favorite part of the figure is the bandolier. But it is followed very closely by, what I imagine to be, a spring loaded wrist knife.
The final figure is the third piece of the Build A Figure. However, unlike the previous pieces, this is a fully formed independent figure – which surprised me, but it shouldn't have surprised me. The first piece was clearly going to plug into the second piece. It didn't dawn on me that the second piece was really more of a platform at the top – obviously because I didn't take a good picture of it. When I saw the third piece it became painfully obvious.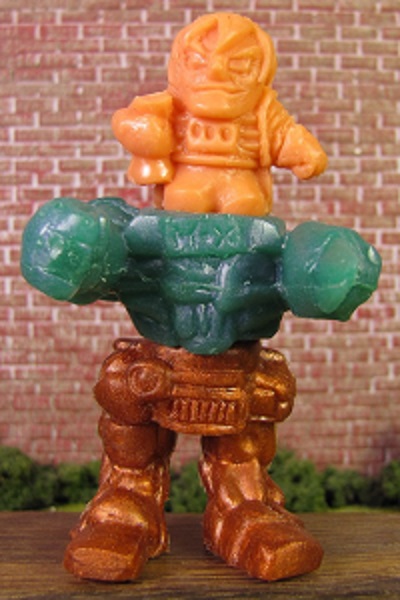 I love this mysterious little figure. I flashed back to the Emperor from my childhood. Obviously a bad guy, but I didn't know much about him. I couldn't wait to learn more. I feel the same with this guy. My guess is that he created/leads the Infestors. If I never find out, then that won't be bad either. I like a little mystery with my minifigures.
The other great part about the third piece is that the entire figure can finally be constructed. Honestly, the final figure was much different than I expected – but that's a good thing. I liked being surprised. I think he looks pretty sweet atop his weaponized, marching wheelchair?
This completes the three original sets of Infestors, but there were two more Infestors releases. You can order the figures here, but they are slightly different versions. I still recommend picking them up!
I have been told even more Infestors are planned. If there was a pre-order, then I would do it today.
You may already know these artists. But just in case you need to find more information, here are some places to find more information about Ironhaus Productions, check out these links:
– Ironhaus Productions on UofMUSCLE.com
– Ironhaus Productions' Store
– Ironhaus Productions' Blog
– Ironhaus Productions on Facebook
For more information about Luke Harris, Check out these links:
– Luke Harris on UofMUSCLE.com
– Luke's Imperfecz Toyz Store
– Luke's Imperfecz Blog
– Luke Harris on Facebook
– Luke Harris on Twitter