Roast Ghost
By Sydot Tots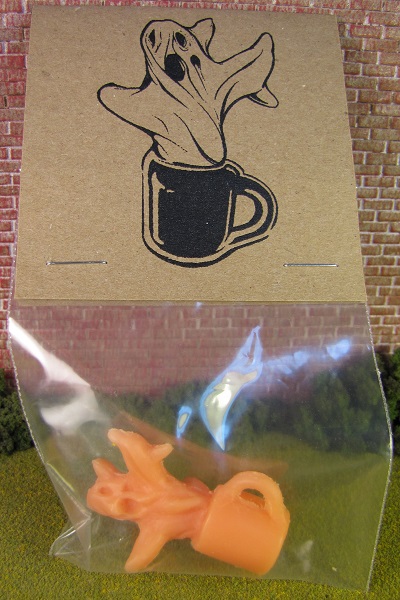 Objective:
The Roast Ghost figure was only available for sale on Instagram. Its cost was six dollars. It was packaged in a clear baggie with an original header card.
The figure is cast in a material very similar to keshi figures. The coloring seems like a mix of M.U.S.C.L.E. Flesh, Salmon, and Orange.
A second blue version of the figure was made aviable by Caffe Pacori (@caffepacori) a coffee roasting company in Eugene, Oregon. This version came packaged inside the one pound bag of roasted coffee beans. For $20 the buyer received both the coffee and figure.
Subjective:
As I sit down to write this I am struck by two things: (1) I haven't disliked a figure I purchased in quite some time; and (2) this figure is probably going to cause diametrically opposed reactions.
For the first point, I like to believe we are in a new, very strong period of truly artist-produced minifigures. (The cynic might say I'm getting soft or only buying what I like, but that's too cynical – even for me.)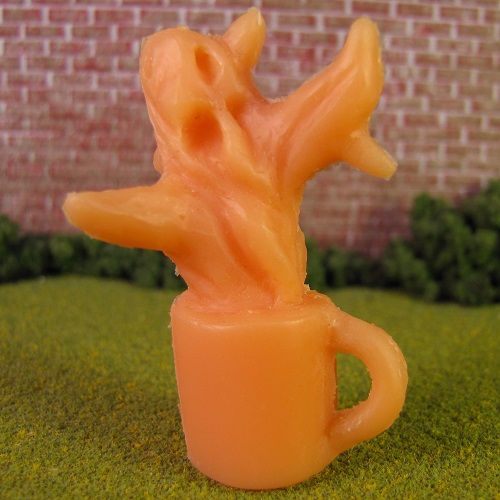 For the second point, I certainly need to expand on my original statement. I think people are going to LOVE this figure or HATE this figure – nothing in-between. I LOVE this figure.
I love the idea. I love the name. I love the sculpt. I love the packaging. In fact, my original thought when I received the header card was, "This reminds me of a coffee bag."
I think the reasons I love the figure could be the reasons people dislike it. But I can't imagine being that dark and cynical.
And finally, there's the price. This figure was an absolute steal at $6. It could have sold for $12 to $15, easily, in my opinion. I'm not a super fan of hundreds of re-releases in different colors, but I would certainly pick-up a few more of these. Just like cups of coffee; you can't have just one cup.
[instagram url=https://www.instagram.com/p/BWdBQL9geqj/ hidecaption=true width=320]
I thought I couldn't love the figure anymore. I was wrong. Very. Very. Very wrong.
I got to re-experience my M.U.S.C.L.E. Nestle Quik childhood excitement in a completely real and original way. A second version was packaged inside a pound of coffee. I bought it as soon as I saw it.
When I received the package, I assumed the figure would be in a baggie and separate from the coffee. When I opened the package, I was actually nervous for a moment. I literally sighed and thought, "God damn it. Did they forget the figure?"
Then I started to get excited. I opened the coffee. The figure wasn't sitting on top.
I got more excited.
I stuff my hand into the bag looking for my prize. Then I felt the figure, and I couldn't stop smiling. It was the perfect experience with the perfect figure for it. (The coffee is fantastic too! That would be a separate review on UofCoffee.com.)
I wouldn't normally suggest buying the most expensive version of a figure, but this Coffee/Quik experience was worth every penny – especially if you're a coffee drinker. You can make the purchase here.
There isn't a less expensive version to purchase, currently, but I would keep an eye on Sydot Toys. I would be shocked if the figure wasn't made available again. It's too good for people not to own a copy.
For more information about Sydot Toys, check out these links:
– Sydot Toys on Instagram