No hotel this week. No view to share.
God damn it. I forgot to order the Halloween figures. Thank god they are coming back Monday.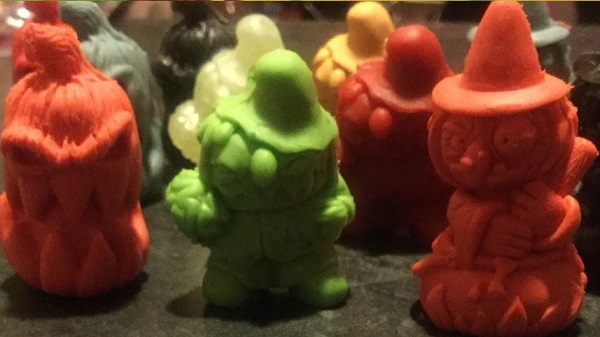 I went from very pissed to very happy.
Let's look at some M.U.S.C.L.E. listings:
– This lot didn't hit the reserve at $30. I don't think relisting it will make it climb higher.
– Weird mix of OMFG and M.U.S.C.L.E. lots – especially at those prices.
– I hate when there isn't a figure count.
– If you own one from this guy, then I need to hear an in-hand review.
– "Men of Muscle," for only $33.99.
– Not the worst lot ever.
– I imagine these lots have greater likelihood of Non-Poster figures.
– "I believe" this will be interesting to watch.
– Why do people want more for $0.50 Sunshine figures?
– Dark Blue #111 is a Class C figure.
– If they want to sell that lot, then the poster needs to be unrolled.
– Too high. Way too high in my book.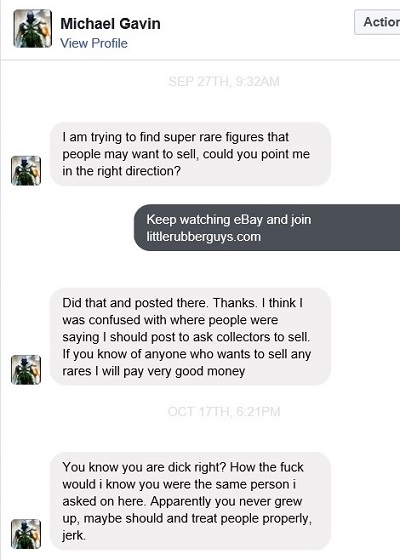 This made me laugh – really hard.
Everybody, obviously, knows the best way to make something funny even funnier is to explain it in painful detail. Allow me to do just that for you.
I get lots of M.U.S.C.L.E. emails and messages. I try to be nice, believe it or not, even if I'm being succinct. Michael posted a comment on UofM, messaged me on Facebook, got polite feedback on LRG (example #1 and example #2), and messaged me twice on LRG.
For the second LRG message I said, "Leave me alone." (I don't think I said, "Please.") I don't mind the other messages and posts, but second message pushed me past my limit. It started to remind me too much of swoodington-like or ironoak-like behavior. I consider those types to be an odd mix of aggressiveness, impatience, and competitiveness.
I assume that's why I got the message that made me laugh.
His response literally made me audibly laugh, but try to hold it in, at my computer. I loved the use of dick, fuck, and jerk as tools of illustrating proper decorum. It still makes me smile. I hope it did the same for you.
I also think it serves as an interesting data point in the M.U.S.C.L.E. community story. I think Michael's approach to M.U.S.C.L.E. is the same as many of the new collectors that arrive to the hobby. They think M.U.S.C.L.E. figures, and specifically the Non-Poster figures, are just like any other hobby. That a Drunken Master is just like picking up a vintage Star Wars Yak Face figure. If you have the money today, then you can have the figure today.
M.U.S.C.L.E. is a super weird hobby. It is impossible to collect every figure. It requires you to be patient. It requires you to spend, probably more than you want, for two ounces of plastic. And it requires you to really know about the figures. It is not a hobby for everybody. I would never join it today. The main thing that keeps me active is playing with this website. The minor thing is the final nine.
I have a soft spot for carnival games. It's grown from my boys' love of them. It's probably why I liked that carnival story and felt bad after learning the update. With that said, I never played them growing up. Even then I thought, "That a fucking scam."
I think that's why I liked this video so much; science, data, and carnival games.

Yes, I know it's seven minutes. It could have been trimmed to six, but I still liked it.