Gutter Kawaii – Lieutenant of Doom
By Ironhaus Productions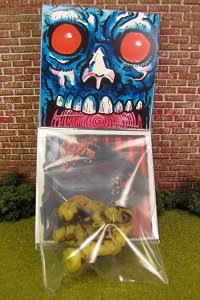 Objective:
Gutter Kawaii is a new brand of minifigures from Ironhaus Productions. The original release of these figures, on January 26th of this year, was a yellow-ish figure with an ink wash (called "Antique Style" in the store). A more recent release has the figures cast in unwashed, basic colors.
The figure comes with a small two-inch, square trading card.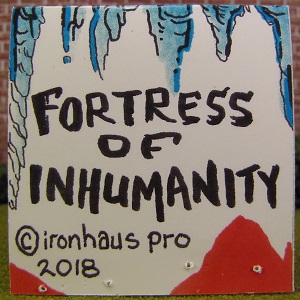 On the back of the header card it says, "Fortress of Inhumanity." It is unclear if Gutter Kawaii is actually a part of this existing Ironhaus Productions line of figures.
The figure is smaller than the two-inch card. It is approximately 1 1/4-inch tall.
The figure cost $12, plus shipping.
The Ironhaus Productions blog suggested that there are "a couple surprises throughout this batch." This figure appears to be a regular version.
Subjective:
I was nervous about the ink-wash. I tend not to prefer painted minifigures. But I loved the wash on the Infestors.
Once again, to my surprise, I loved it. These little figures are so tiny and so detailed; the wash highlights the beauty of the figure. I think it makes the figure standout on a shelf much easier.
When I read that people were "meh" about the antique style I was disappointed. I understand preferring monochromatic, unpainted minifigures – nobody understands it more than me.
However, I think you need to trust the artist's choice. And I think you need to sometimes take a leap of faith. I was nervous when I placed my order, but I was blown away when I had the figure in my hand. It's a tired mantra on this site, but you must reserve final judgment until you are holding the figure.
My purchasing history easily proves I am a fan of Ironhaus Productions. And I would tell anyone that would listen that they should buy Ironhaus Productions figures. I hope those facts don't lessen what I say next.
I believe Jimmy is the undisputed King of Microfigures.
For more information about Ironhaus Productions, check out these links:
– Ironhaus Productions on UofMUSCLE.com
– Ironhaus Productions on Instagram
– Ironhaus Productions' Store
– Ironhaus Productions' Blog
– Ironhaus Productions on Facebook