Today is the first time I couldn't start an Epilogue because I had too much to say. I doubt all most any of it is very good or interesting, but I had a lot on my mind. I decided to start looking at eBay. Maybe that would help me find the opening?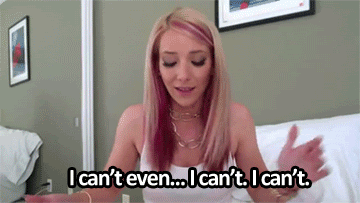 It did. I looked at the first M.U.S.C.L.E. listing and thought, "I can't do this today." For some unknown reason, the childishness of that really sunk in. For the things I care about, that's just not possible.
My inner-contrarian screams, "It is possible!" But I know it's not. Lunches will be made. Uniforms will be washed. Homework will be checked. Tuck-ins will happen.
Even the less important stuff will happen. Forms will be completed. Conference calls will be attended. Bills will be paid. Dehumidifiers will be emptied.
I'm not complaining about those things. I have a firm grasp on my, current, high level of luck. I just can't remember the last time I followed through after saying, "I can't do this today." Don't get me wrong, I have certainly procrastinated on things. I am very far from perfect good adequate.
I think I need to change that. I need to get day drunk. I need to do something different. In my book too much or too little of anything is bad. There's been too little quality goofing off. (Says the guy with the nearly daily updated M.U.S.C.L.E. website.)
Except too much cancer. Or death. Or drugs.
Also too little air. Or water. Or sanity. Look, I didn't say my book makes perfect sense. Let's take a look at eBay.
– My brain insists on confusing Red #116 and #164.
– I wish I had this much free time.
– Everything sucks about this 4-pack listing except the Woolworth price tag.
– Free Handling?!?! That's usually sooooo expensive.
– Nice little mixed lot, but absurd price.
– "Some are rare, they are all cool." Are some and none synonyms? Maybe I'm the dope.
– I'm more shocked it has a bid.
– What figure number is this one?
– Third time for this "ONE TIME CHANCE."
– When does foolishness replace hope?
– Should he be allowed in the AOTW tournament? Or is it too, "Duh!"
Is the AOTW #3 position like the pole position?
The last two winners have been the third contestant. Weird.
Do you know my favorite game when I see outrageous single figure prices? Figuring out what a set would cost at that price per figure. A poster set (minus the Hard Knockin' Rockin' Ring Wrestling Arena figures and the Satan Cross figure) would, respectively, cost $13,968.35 and $5,825. Wow. That blows my mind.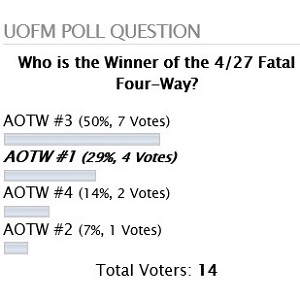 Twice already I have mentioned having a seller-focused AOTW battle. This is the week we will be trying it out.
I've picked four figures to represent each seller. I tried to pick similar figures and prices (Class C figures and around $10). However, each of the sellers has a wide variety of figures and prices. I've included direct links to all of their M.U.S.C.L.E. listings. I hope you will do a quick overview scan of their listings before voting.
I know, I know – there's more work this week. But I think the Fatal-Four Way is much more fun. Cast your vote and crown this week's AOTW.
Remember, you are placing your vote for the biggest asshole seller – not just the single figure.
Here are the four combatants:

| | | |
| --- | --- | --- |
| | vs. | |
Here is your weekly installment of "Damn the torpedoes!"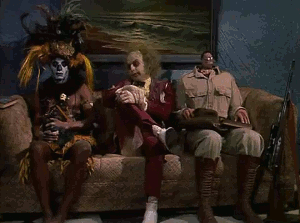 Have you ever had a joke that was funny and then it became unfunny?
Just one day – poof! Not funny.
I fear that has happened. The good news is that those jokes often become funny again. You just have to wait.
On the plus side, if I'm writing this and you're reading it, then we both have the time to wait it out.