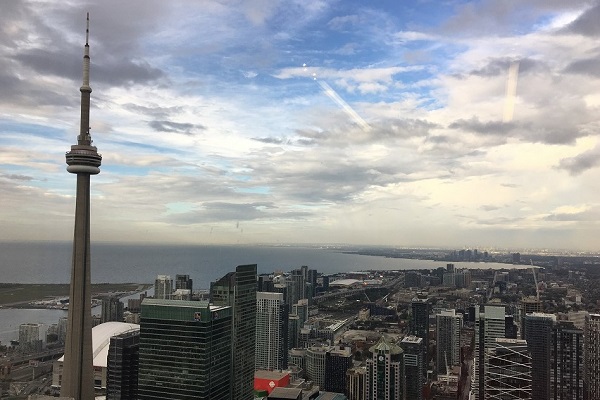 Here was one of my views this week. Not bad.
Every time I'm in Canada I have fantasies of final 9 at the comic book store next to the hotel. At best, I have the extra time to find a comic book store. I almost never have the time to go. Poor, poor me – right?
This last trip through Canada had me driving through rural areas. I passed farm houses, old barns, and tiny stores. A tiny, crazy part of me wanted to stop at each of them and ask, "Hi. Do you guys have any M.U.S.C.L.E. figures?"
As I continue driving, my brain starts to further fantasize that the sweet old lady is going to pleasantly answer, "Yes, of course! My son loved those things."
Then a wave of sadness would hit her and her face would lose its smile. "We buried them with him."
She would look out into the vast farmland that is her backyard. Near the barn would be a small tombstone for a child.
Even after the daydream has turned into a nightmare I would say, "I'm sorry." And grab a shovel.
Now let's take a look at some real monsters:
– Imagine my surprise after searching "💯😜."
– I wanted to claim he's clogging up my search. It mad me sad that he isn't.
– God damn monster. CUTIE doubles.
– For me, this is one of the best lots I've ever seen. (Not a joke.)
– Fuck. This. Bidder.
– Ok, enough universe. Another MUSCLEMANIA lot.
– I think he meant "very stupid" and not "very rare."
– I would be happy if you gave me Mr. Bluehead, but I would never buy him.
– This Class B lot hasn't sold. Does it sell after being mentioned?
– "I purchase a fair amount of my listed items at Estate Auctions, Yard Sales and Flea Markets." You wasted your time more than normal on this one.
– Wrong.
– Oh boy.
– Am I crazy or did I list this last week? Is it STILL going on?!?!
Buy these. I've already placed my order for all three. I won't repeat all of my feelings about UofV, but I love them.
Placing my order did break my heart a little bit. When I saw the Hell Chicken I thought he was for sale too. Wrong. He's sold out. I would have bought three Hell Chickens. First world collector problems.
As mentioned in this week's AW the race has been moved to the Epilogue.
It looks like this week doesn't feature any movement towards $10, which made me smile.
"I only need one person willing to pay that price."
I imagine that's the thought – and fair enough. But it makes me wish I had a perfect term to define this behavior. It's behavior that flies in the face of tangible data. Incredulous came to mind. I even considered "Damn the torpedoes!" Maybe this race, this event, will give birth to that elusive term/idiom that the world needs to describe these critical M.U.S.C.L.E. situations.