The last Epilogue had 109 terrible listings using "Rare" in the auction title. That's why the poll results were so stupefying.
[poll id="44″]
Are there any good/positive examples of a M.U.S.C.L.E. listing using the word "rare" in the auction title? I tried looking back at some recent Auction Watches and didn't see any examples. I only checked back two or three pages.
Does "Rare" have the same logic/data-escewing power as Satan Cross? I think it might.
– Don't like "rare," but like the $0.99.
– Don't like "Class A," but like the $1 opening bid.
– "In the larger scheme this figure is one of the less scarce CLASS A figures, but for the MUSCLE enthusiast and completionist, it is still a must have."
– Oh, c'mon.
– Do they ship to Cambodia?
– "adult Owned-baby" Proper punctuation is so important.
– Nice lot.
– Damn you! Have a figure I need. Err…
– Two red clamps or a repair?
– What am I missing?
– WHAT AM I MISSING?!?!
– This must be shilling, right?
Who will win this week's Fatal-Four Way battle? Let's take a look at the competitors.
The AOTW #1 has a $39.99 BIN for five Flesh figures. The AOTW #2 has a simialar BIN price. The $32.99 BIN is the highest priced lot from this seller, which really surprised me. Maybe he thinks the tortured, melted figure is extra valuable.
I've argued that Purple #180 and #208 are the most common M.U.S.C.L.E. figures. I would include Flesh #208 in the top 10 most common figures. The AOTW #3 thinks the Flesh #208 should have a $15.95 BIN for being on the top 10 list. Finally, the AOTW #4 has given the 101 Flesh lot of figures a $250 BIN.
Cast your vote and crown this week's AOTW Fatal-Four Way winner. Here are the four combatants:
| | | |
| --- | --- | --- |
| | vs. | |
Remember to cast your vote and crown this week's AOTW Fatal-Four Way winner:
[poll id="45″]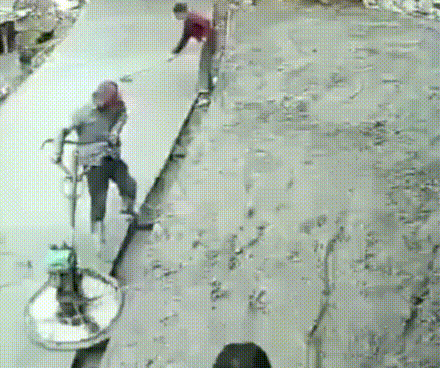 How do I wrap-up this week's Epilogue?
Another Sunday Paper reminder? Maybe a sexy lady? Possibly a cruel joke?
No. I'm going with a gif that made me chuckle.