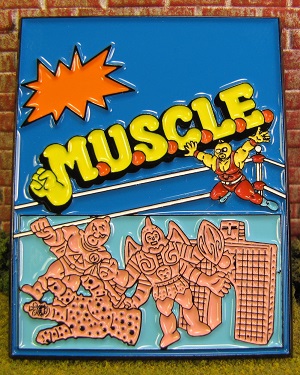 When it came time to write this review I had to pause. Is this an Art entry or a Fashion entry?
I decided it was a Fashion entry because it reminded me of the boutonnieres. And it would be difficult to argue that a lapel pin isn't clothing related.
I know I have seen at least one M.U.S.C.L.E. lapel pin in the past. I had no desire to own it. Frankly, it felt like one step past people that attach a key-ring to M.U.S.C.L.E. figures. I hate when people do that and try to sell them.
When I saw this two-inch soft enamel pin, I was instantly blown away. It showed up in my Instagram search feed. I instantly started following freekaratechops on Instagram. The thought of missing out on this pin made me very nervous.
I was able to purchase it for $12, and you can still get one! If you haven't ordered one, then do yourself a huge favor and make the purchase.
I love the selection of figures, I love the artwork, and it looks even better in person. This pin went immediately into my M.U.S.C.L.E. display case. I absolutely love this pin. In fact, I ordered a second pin to put on my work computer bag.
When the pin finally went up for sale I also order some of his custom M.U.S.C.L.E. figures. Those reviews will be coming soon.