Qin Shi
By Free Karate Chops
Objective:
This custom M.U.S.C.L.E. figure was designed, built, and cast by Free Karate Chops. It is cast in resin. It is unknown what colors were available.
The figure costs $10 (and is still available). The buyer receives a random color. I received a translucent red and clear figure.
The figure is built on the base of a #108 figure. The right-arm has been altered, but it is not 100% clear if the left arm has been altered.
The head of the #108 figure has been replaced by the head from the #19 figure.
I don't know where the ax specifically comes from. However, Ragnar appeared to have a sword from the He-Man Mega Construx. This ax look like it might be from that same line.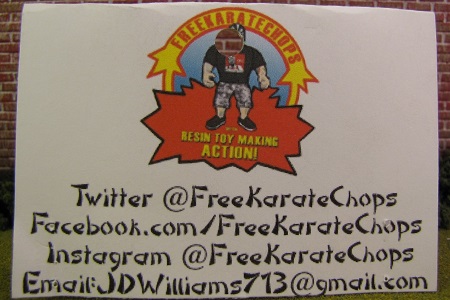 Subjective:
Normally I prefer the Flesh-like versions of custom figures. When I saw this clear and red I was surprised how much I liked it.
For me, this figure felt like a new addition to the Yama Bito 10-Pack. That's not meant to suggest it is copying those figures – or worse, derivative of the figures. I mean it as a compliment.
If there's one confusing part, then it's the selection of the name. I believe he is named after Qin Shi Huang. How does that connect to the figure?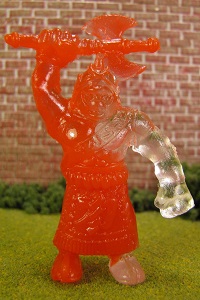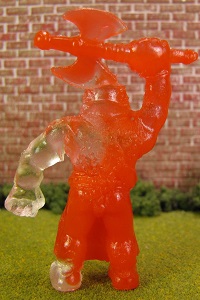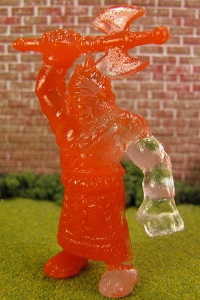 Specifically, how does that tie to the ax? The ax is pretty central to the figure. I didn't get the Qin Shi Huang and ax connection.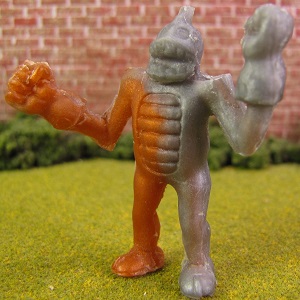 For $10, I think this is an easy addition to any M.U.S.C.L.E. collection. Go pick one up ASAP.
Included in one of my Free Karate Chops orders I received the figure to the right.
I had to learn about this mysterious figure. Quickly I learned that he came from the Monster Water sets. I was able to find a picture of the entire three figure set. Looks like I might need to order a Monster Water set.
For more information about Free Karate Chops, check out these links:
– FKC on Instagram
– FKC's Store
– FKC on Facebook
– FKC on Twitter