Well, this should be interesting. At first glance I saw a Purple #2, Red #112, Salmon #179, Dark Blue #71, Light Blue #145, and a Green #190. All of those are Class A figures – and pretty good ones too; at least I like them. As I'm writing this the price is at $36. One of the last Purple #2 auctions I saw ended for $54. I have seen the figure go for $100. Add in all those other actually cool Class A figures and this one could get pretty high. There may be some Class A figures that I probably missed too. This will be a very interesting one to watch end.
– Look at the pictures, isn't that a strange lot of 75 figures?
– Not much time left. 44 Flesh figures and free shipping.
– "Probably it is never available." You literally can't argue with that.
– Most people see an over-price lot. I see two tortured MUSCLEMANIA figures.
– This time we all agree. Just fucking over-priced.
– I didn't see the keshi at first, but they really help this lot.
– Are #153 pictures they hardest thing to do now?
– "AS FOUND! NOT PICKED! RARE FIGURES! EXCLNT!" What?
– Am I missing something? Is it the MIMP that people want?
– This is probably a great lot. Not for me. Once I see the modern UM I know there is a 0% chance I need anything from that lot.
– $8.88 is a fine opening bid, but we all know $6.66 is much funnier.
– Why does this have a bid?
– I can't help it. I always have to look at these auctions. Non-Poster?
– Is it just me or is that a really nice looking picture of that figure?
I'm the first to say I don't know keshi prices. So what are fair prices for this lot and this lot? The reason I ask is because the 2nd lot doesn't seem too bad. But I might be basing that on the fact that the Green Ramenman looks like MUSCLEMANIA #1.
In fact, can anybody tell me about the release date of that little Green Ramenman? It really feels like Select ripped off that sculpt – not inspired, but 100% ripped off. Or its just a crazy coincidence.
Now that it is at $25, I can see why they didn't win last week. But did the same seller raise the price on her other auction?
At the end of the day – who cares? We're looking for someone that can take a run at the reigning champion AOTW #1. Thanks to Professor Terry I thought we had a real challenger with this auction. But, just before finalizing the Epilogue I saw this auction. I don't know how I missed it before. Sure, this auction will be over by the time the Epilogue is posted but I know it will be re-listed.
But which one is really the best challenger? In the spirit of March Madness (fuck your trademark NCAA) we'll have a play-in game. Both of these assholes are worthy challengers. You decide who will take on the greatest asshole ever to play the game. Remember to vote in the poll at the upper right hand corner of the page.
I was hoping to do another old picture this week. That didn't work out.
Back in May of 2012 I was given almost an entire full-run of Kinnikuman comics. I really didn't know what to do with them. I had one idea but it never got off the ground. Now I've got a second idea. But again, I'm feeling like I don't have the time to do it.
I don't have time for Kinnikuman comics, and I haven't even had time to read the second book from Mess Bucket Comics (I did a brief review here and have mentioned them several times). I plan on reading it this weekend. I've thumbed through it and I'm pretty excited. I liked the first one – so the pressure's on Arcane.
If you don't have time to wait for my review, then check-out Mess Bucket Comics at these links:
– Mess Bucket Comics on Twitter
– Mess Bucket Comics on Facebook
Lastly, the Lady of the Week – which can be seen below. Honestly, it was my back-up choice. I saw the upcoming picture and my first thought was, "I can't use that!" But there really isn't any nudity. It's like an optical illusion. Nothing is shown but you could swear she's naked. Of course she's super hot, but that's not why I wanted to pick that picture (seriously). It's like some kind of crazy NSFW-but-actually-ok illusion.
So the Lady of the Week is below, but here was my first choice. Don't click at work. Or do. I don't care.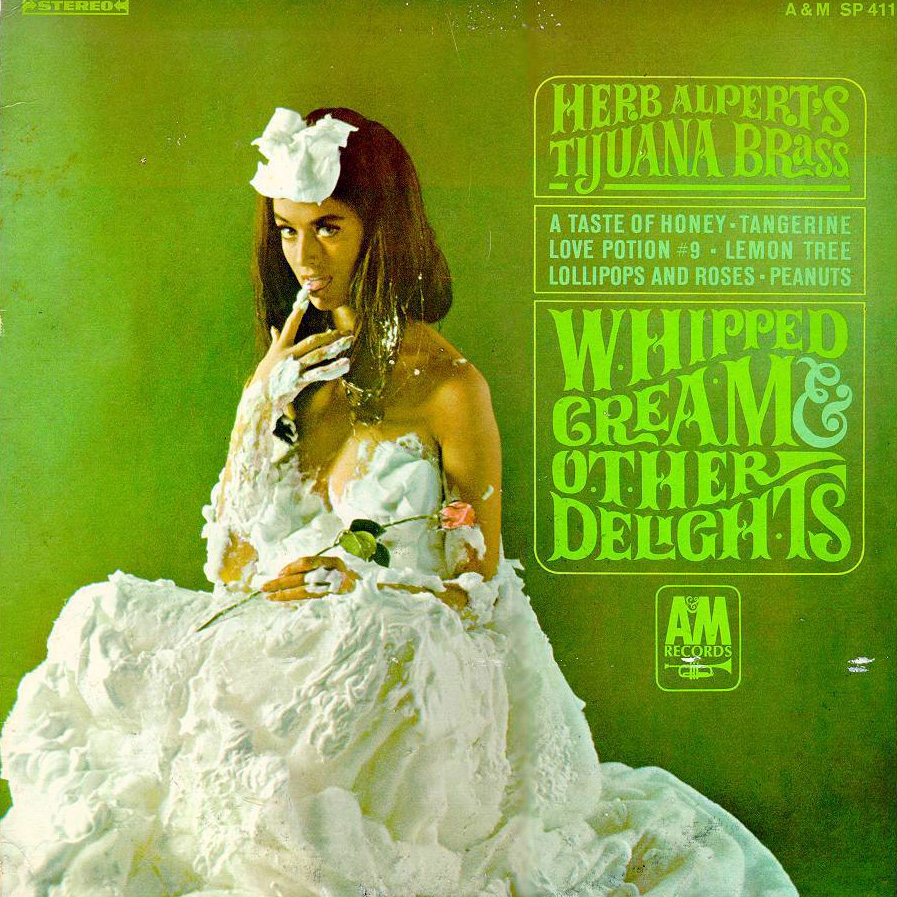 Why did I pick this picture? It's kind of a long story. I'll try and tell a brief version. I have a bunch of records. One of them is Herb Alpert and the Tijuana Brass. It's a famous album cover, so I bought it. My oldest (now 6) has seen it. It's not hidden; just with other records. So we were walking down the street and my oldest yells out, literally, "Hey, we've got that!" And he's pointing into an antique shop.
For a moment I feel pride, thinking he'll be pointing out something really nice, but before I can figure out what he's pointing out – again, he yells, "That record. We've got that record!"
I honestly can't say I was embarrassed. It was pretty funny. "Yes son, that's the whip cream covered lady from our house."