King the 100 Ton
by Professor Terry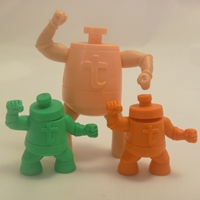 This week I'm going to talk about a figure that I would love to have a few more of in my collection – the King The Tons figure or King the 100 Tons as some put it.
This figure, in every form, is just plain awesome looking; a simple design of a 100 ton weight with limbs and the letter "T" on his chest. I love it!
I had the M.U.S.C.L.E. #185 in Dark Blue as a child and he lived in the clear name holder for my schoolbag – T for Terry.
The 1991 series version is my favorite and one I just had to get in every color.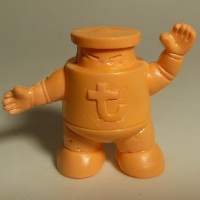 This version stands out amongst my other 1991 figures on pure size alone. He looks like he weighs two tons. The SD Kinkeshi figure is a fantastic looking figure, so is the Deka Kinkeshi. You can't go wrong owning any of them to be honest. He always displays well due to his chunky nature and has enough variety in sculpts to satisfy every collector.
Which brings me to this particular sculpt of King The Tons which I bought for 500yen (about $5). I don't know what line he's from, I don't have any other similar figures like him, he is rubbery like a Keshi but still chunky. But I don't care – I would have paid so much more as it's one of my favorite figures in my entire collection.
There are more King The Tons figures I am yet to find and I am happy to search – searching for figures is 80% of the fun of collecting.