The MOTU M.U.S.C.L.E. Wave 2
By Professor Terry
This week MMMM returns with some MOTU M.U.S.C.L.E. from Super 7. The wave 2 figures.

Even though these were first released in flesh color, I've decided to highlight the colored versions due to the similarity to M.U.S.C.L.E. colors in their release.
I'll admit I was really disappointed with the first wave of MOTU M.U.S.C.L.E. related figures due to the figures themselves bearing little resemblance to the figures we love. They were too small in scale, too skinny and were really poorly casted. They were M.U.S.C.L.E. in name only.
Fast forward to wave 2 and the figures are much improved. Again there are 12 different sculpts, first released in flesh color then in colored format. The choice of characters were also improved with Kobra Khan, Spikor and Stinkor the highlights in the new characters. The re-sculpts of He-Man & Skeletor are way better, the Skeletor in particular is awesome.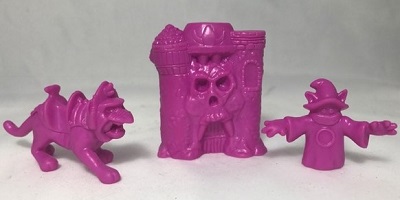 The best improvement Super 7 made however, is that these figures can actually pass for M.U.S.C.L.E. due to the more solid nature of the line. The colors make these figures stand out more as well.
There still a couple of negative aspects to this wave of figures. Having a M.U.S.C.L.E. sized figure of Castle Greyskull, a building bothers me. I can't say I'm a fan of the Battlecat or Orko sculpts either but I understand the necessity of them I guess.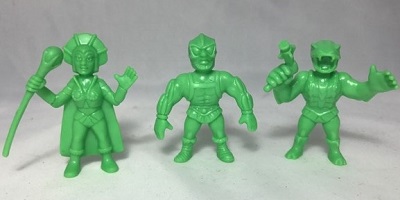 Buying the 10 pack trash cans are the best way to complete a color set of 48 figures. Be aware that there are also a dark green & yellow set of 12 wave 2 figures only available in the MOTU M.U.S.C.L.E. 24 packs.
That now makes 60 colors for the color set. Then there is a grape type color set of 12 and I believe 3 glow in the dark ones randomly inserted into 10 packs.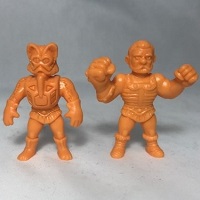 Then if you want to be completist, there were a He-Man & Skeletor wave 2 figures in Wind Raider & Roton rides available in a 2 pack in Dark Orange.
So for you to have a full set of wave 2 in every color the total is 77 figures.
I overall do like these figures. They are certainly better than the Alien & Mega Man M.U.S.C.L.E. lines but not as good as the Street Fighter ones.