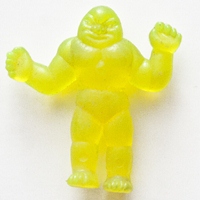 The errors and warps are nice ones. It was nice to see them again.
The AW #118 was interesting to me too. I still feel that the Yellow Mellerdrammer is cooler than the Purple #157 figure. I am just a sucker for the Future Strength figures.
I also don't want to underplay anything about the Purple #157 figure. He is one of my favorite sculpts. I am also about 46% sure that Purple #157 auction led to a happy M.U.S.C.L.E. story.
The Epilogue made me wish the links still worked. I wanted to see the MUSCLEMANIA auction. The paintballs were cool too.