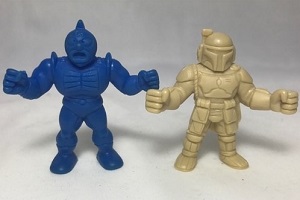 Star Wars Kinkeshi Figures
By Professor Terry
Well I'm back from my 4WD Island holiday with a new MMMM – Star Wars M.U.S.C.L.E. (Kind of).
I stumbled across these while looking amongst all the new Japanese releases that have hit the vending machines over there lately and what a nice surprise!
They cost me about $60 USD for 24 figures but that is cheaper than the latest Kinkeshi figures that have been released.

There has been a few efforts to customise M.U.S.C.L.E. figures into Star Wars characters over the years & now the real thing is here. There are 8 different Star Wars characters in the set and in 3 different colors, new colors too I might add as usually Keshi in Japan are done in flesh, red & blue. So to have Black, White and Tan colored figures is certainly something different.

The 8 figures are: Luke Skywalker, Darth Vader, C-3PO, Boba Fett, Stormtrooper, Han Solo, R2D2 and Yoda. As you can see by the comparison pics they are similar in size to M.U.S.C.L.E. but made of a harder plastic. The lightsabers though are quite soft and easily manipulated.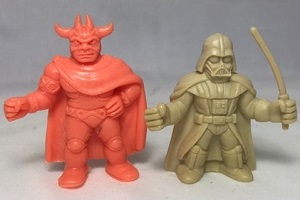 Being a massive Darth Vader fan, I love that figure in black in particular but the Tan figures stand out for me as a lot because the detail of each figure is much more prominent than the white and black versions.
I'm not overly fond of the R2D2 and Yoda figures as they seem quite blocky but in saying that, there isn't a lot you can do with the R2D2. The C-3PO is the worst of the normal sized figures, I really like all the others and they make a nice addition to my mini figure collection.
See you next week!