Kinkeshi Premium Set Vol. 5
By Professor Terry
Well, the next wave of Kinkeshi Premium is here (though I've had these for about a month now).
It's now time to review the newest set. I have to say this is my favorite set yet with a bunch of my favorite characters!
So lets start with the best ones – these 4 are to me by far the best ones done by Bandai. I'm so happy to have new sculpts of these figures.
King 100T – Outstanding, fantastic sculpt. So good in fact I want to buy another singularly and have some custom painting done. I can't say enough about this one.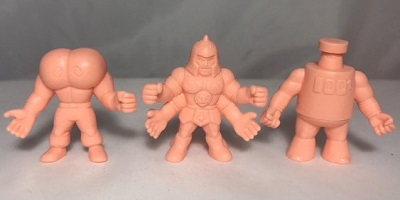 Satan Cross – Again, outstanding. Love the fact that his initials are on his chest. The 2 piece joint has an improved joining tab but I'd love to see the figure done as 1 singular piece.
Kinkotsuman – I always thought the M.U.S.C.L.E. version was too skinny, great to see him "fattened" up a bit. Not as good as the 1991 sculpt but damn close.
Butthead – Not sure that's his real name but having a figure with a butt as his head is awesome. I've seen a Romando of this guy but nothing else. Always reminds me of Back To The Future and Biff Tannen. That alone makes this figure gold.
The next figures are also fantastic and if they were in any other wave, then they'd be the pick of the set.
Kinnikuman Mariposa – I've always liked Mariposa best of the "other" Kinnikuman variants so glad to have him. Although again, not quite as good as his 1991 version.
Akuma Shogun – The third version of him in the Premium series so we are getting a bit towards the overkill stage. Though this one is probably the best one. Similar to M.U.S.C.L.E. figure 111, although that figure to me is slightly better. Still, a very cool figure.
Kinnikuman with crown – There has to be a Kinnikuman in every series I'm certain but this one with the crown is easily the best one. I really wish one like this was made in the M.U.S.C.L.E. series, he's a standout.

Sunshine Pyramid – A #107 clone, this one is shorter in length and wider at the top, looks a bit better to me and any Sunshine figure is welcome. On a side note, he's easier to spin too!
Now the next 4 – Figures that have been done before and very similar to their M.U.S.C.L.E. counterparts.
The Ninja – He's okay, no variant on what's already been produced, nothing to see here.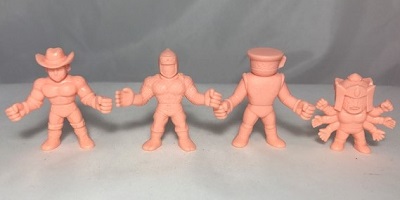 Teacup Man – A slight improvement on his M.U.S.C.L.E. counterpart, has a bit more weight to him. (I really don't like skinny figures)
Young Ashuraman – a take on M.U.S.C.L.E. figure #199 – this one is a bit better but he has a much bigger head and I'm not sure why.
Terryman in cowboy hat – Another Terryman, this time in his cowboy hat which I much prefer. In fact, I only add a Terryman figure into my collection if he's got the cowboy hat. Yes he's my namesake and no, I'm not a cowboy.
The last 3 figures and brand new sculpts. Well I think so anyway yet these guys look like figures from Ultimate Muscle.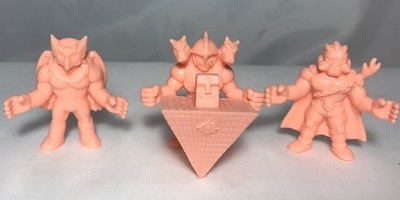 Hawkman – he's different to all the other Hawkman figures released so far but a nice variant with his mask.
Dude with 2 dragons either side of his head – This guy I'm sure is an Ultimate Muscle.
Dude with breathing mask and cape – Kinda looks like Bane from Batman. Nice addition to the collection.
I have to say though, the 3 new sculpts are probably the weakest yet but who cares when practically every other sculpt in this set is fantastic!
Kinkeshi Premium Vol. 6 is due the end of May I'm told so watch this space for a review.