I knew I wouldn't be able to post this week, so I thought a Stir Up Saturday would be good.
But it's not Saturday. And I didn't do didn't do shit 5 years ago. And it didn't get any better the next month. So let's break all the rules. Here are some things from the past.

I wonder if anybody has seen this since 2009?
I remember being very proud of this write-up. It's ok, but I don't think I should have felt "pride."
Once things started to get back on track I wanted to do something good. I had always thought that M.U.S.C.L.E. collectors should harness their collective power and do something productive for the greater community. And there seemed to be one charity that all M.U.S.C.L.E. collectors could easily embrace – Toys for Tots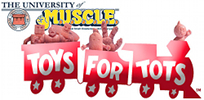 Only $250 was raised. I was bummed.
That was not the last bummer. I ended up having some PayPal and IRS headaches. I'll spare you the details. But it effectively killed any organized UofM charity work.
As terrible as the experience turned out to be, I wouldn't minded revisiting it. I've learned a lot more about charity since that disaster.

And finally Auction Watch #8. The next Auction Watch will be #168. One hundred AW's since this boring mess.
It wasn't a bad auction. It wasn't a bad final price. Hell, even the tips were ok.
But it's just so boring. One auction?!?! One Hauler? I couldn't find another place for some of that info?
I know every post can't be a thing of perfection. Most aren't. But I think the posts are, at least, a little bit better since then.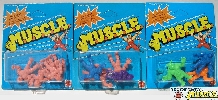 I stand behind my 4-Pack write-up. That was written around the same time. It holds up a little better.
Speaking of 4-packs, if you have a 4-pack combination that is not listed, please email a high-resolution picture to the University of M.U.S.C.L.E.. Please take the picture on a white background. Thank you!