M.U.S.C.L.E. Mighty Muggs
by Professor Terry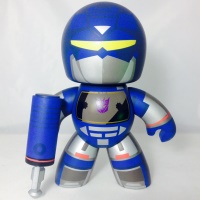 For those of you who don't know what the Mighty Muggs series are, they are made by Hasbro and feature popular figures from Transformers, Star Wars, G.I. Joe & Marvel. To the right is a licensed Transformers Soundwave.
So how are there M.U.S.C.L.E. Mighty Muggs? These were custom done for me by LRG member Imperfecz (Luke Harris) after I saw he had done a Kinnikuman one in the past.
We had a bit of a brainstorm about which Kinnikuman figures would look good in this round-headed Mighty Muggs concept. I was adamant about Kinnikuman and American Rugby Boss. Those that have been long time readers of MMMM will know about my love of the Rugby Boss figure (MMMM #50).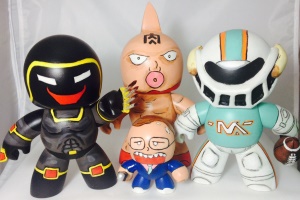 You can see there was a lot of work put into this Rugby Boss custom. From the helmet grill to the tusk looking ears and sculpted football that can be switched from hand to hand. Of course I chose a Miami Dolphins uniform as I have with other Rugby Boss customs.
Imperfecz suggested Warsman because he could do something really cool with the bear claw and add a bloody tip to it. I loved the idea. I asked to use the smiling version of Warsman because that version really stands out to me. Now, it's my now favorite custom due to its authentic look and metal claw with blood stains on it!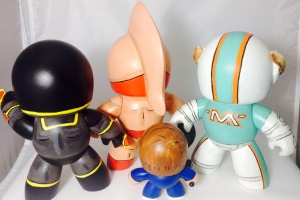 The last suggestion also came from Imperfecz and that was a mini Mighty Muggs of The Announcer, another of my absolute favorite M.U.S.C.L.E. figures. Adding the microphone is a nice bonus, though it doesn't switch hands like the football.
Which Mighty Muggs figures these originally were I do now know – however, these pieces are cherished parts of my collection due to the fact they are custom made AND painted rather than a great paint job on an existing figure. That alone makes them unique.