M.U.S.C.L.E. Figure #134
(American Rugby Boss or Ameragu Chojin No Bosu)
by Professor Terry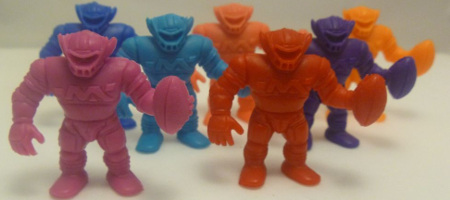 MMMM #50 is here and this week it's all about my absolute favorite M.U.S.C.L.E. figure – #134. And as it's the start of the NFL season, it's a perfect time to talk about this figure!
Let me tell you why this is my favorite figure. It is pretty simple. It combines my two passions: (1) toys; and (2) American football. I know I could get the same experience from Starting Lineup figures and they're more realistic. But #134 is from my favorite toy line and that makes him a winner. I had an Orange and Salmon "Footy," as I called him when I was a child, and I still have both of those figures today.

As an adult collector, the first M.U.S.C.L.E. I looked at collecting in every color was this guy. Problem was, there was a Class A figure to find and supposedly one of the toughest Class A figures to locate as well. That was disappointment #1. Then I found out that he has only two different figures available and that the Deka Kinkeshi is one of the tougher figures to obtain in that line too! Disappointment #2.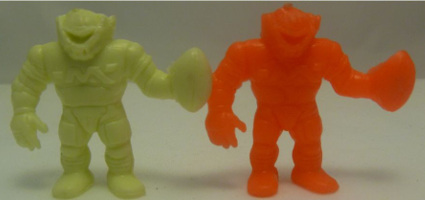 To overcome those disappointments I did something I haven't done with any other M.U.S.C.L.E. sculpt and that was start building an army of them. I kept every single #134 I received in a lot, located the four Kinkeshi versions and eventually found a Red #134 plus the Deka Kinkeshi version. I was even lucky enough to locate two different Mexican bootlegs in separate auctions.
Then Auction Watch #XXX I saw an auction selling 23 Flesh #134 figures in a lot. I'm probably the only person in the world that would be interested in a lot like that one. Guess who won the lot for $10? Now I had 25 total flesh figures and had to make a decision about what to do in terms of displaying them.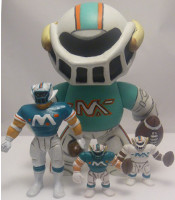 The idea to create a #134 custom painted figure in each of the 32 NFL teams came when I received the figures in the mail. I liked keeping my Color army separate from the Flesh army. I turned to my friend LRG member Plastic Playhouse to paint up my NFL teams. I wanted both the Miami Dolphin home and away figures (obviously my favorite NFL team) and chose 24 more teams to have painted. I do intend to have all 32 teams painted. It will happen when I find another seven Flesh figures.
I have now taken the combined love of the Miami Dolphins and American Rugby Boss to the next level and decided to have a Deka Kinkeshi sculpt painted (thanks Ersico) and created, from scratch, a Mighty Muggs American Rugby Boss in a Dolphins uniform (Thanks Imperfecz). That Mighty Muggs is really a work of art and the four figures done for me will be showcased in a future MMMM.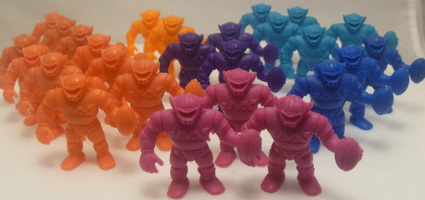 I really enjoyed taking these pics of #134 and especially of the four Miami Dolphins figures this week, especially seeing they belted those stinking New England Patriots Sunday. Sorry Pats fans…well not really 🙂