Infestors Grunts
By Ironhaus Productions and Luke Harris (Imperfecz)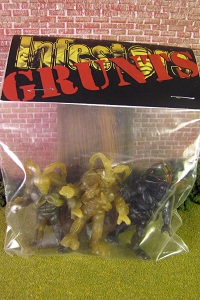 Objective:
The Infestors are a group of figures from Ironhaus Productions and Luke Harris (Imperfecz). The first version of the Grunts was a single figure. The second version is almost a single figure. The positioning of the arms is subtly different. A three-pack includes all three of the minor variants. This review features the army-building three-pack.
The second version is cast in various combinations of translucent yellows and browns. The figure is cast in a keshi-like rubber. The figure is packaged in a clear bag with a header card.
The single figure costs $12, and the three-pack costs $30.
Subjective:
I should make an admission before going any further. I thought the three-pack was made up of three different sculpts. I didn't realize this was an army building set. I was disappointed by my own stupidity. Thankfully I love army-building. Then I felt stupid again. They are three different sculpts – but with very minor differences.
I needed to compare the Grunts. Here is the original Grunt figure:

I still love that figure. That figure made me a lifelong Infestors fan.
Here's the new sculpt:

I believe the original Grunt has two extra arms added. I don't hate it. I don't love it. It feels like it makes perfect sense, which minimizes my emotional reaction. This feels like a perfect variant to an awesome figure perfectly suited to army-building.
I do like this first color because it is very close to the original. I wish I could have a new Grunt in the original color.
Here is the second color:

This is the figure that made me realize the arms are in different spots. This color feels more authentically cockroach, but it is so dark that the details start to disappear a bit. A dream casting, using this color, would the dark shell with a much lighter face and chest.
Here is the third color:

Again, the arms are in a slightly different position. The positioning is the most emotive, which has pros and cons. Obviously, the pro is that the art creates an emotional reaction. This figure feels startled or surprised. The con is that I don't know if I want an emotive army-builder.
This third color is easily my favorite color. Perfect Infestors coloring. Literally perfect.
I love the Infestors line of figures. I posted a family picture on Instagram because I wanted to show-off this amazing collection of figures. One of my first attempts at taking the showcasing picture proved why the second Grunts are such wonderful army-building figures.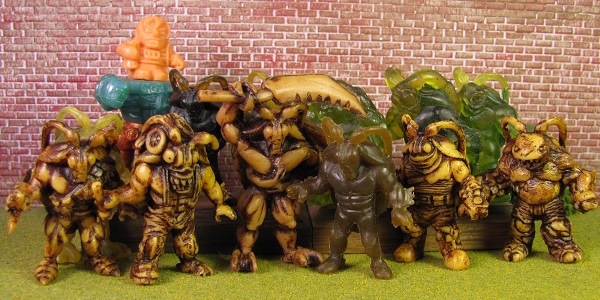 They perfectly blended into the mix. They don't stand out among the characters.
Cynically you could suggest it's just a bad picture. They blend in because I can't take a good picture. Trust me, I know I'm not a great photographer, but this is a credit to the figures. I had plenty of attempts to look at. I think the Grunts even blend into the family picture.
Again, you can order the figures here, I recommend picking them up today! I have been told even more Infestors are planned. If there was a pre-order, then I would do it today.
You may already know these artists. But just in case you need to find more information, here are some places to find more information about Ironhaus Productions, check out these links:
– Ironhaus Productions on UofMUSCLE.com
– Ironhaus Productions' Store
– Ironhaus Productions' Blog
– Ironhaus Productions on Facebook
For more information about Luke Harris, Check out these links:
– Luke Harris on UofMUSCLE.com
– Luke's Imperfecz Toyz Store
– Luke's Imperfecz Blog
– Luke Harris on Facebook
– Luke Harris on Twitter