Say what you will about celebrating the nearly complete genocide of a people; I love that short work week. Did everyone have a good Thanksgiving?
I did, but it was over too quickly. Every six weeks we should get a three-day work week. If I was your dictator, then that would be my promise. Obviously I wouldn't be a president. If I'm going to be in-charge, then it has to be a dictatorship. Sure, the punishment for eBay shenanigans would be death. But, three-day work week every six weeks. That sounds pretty good to me.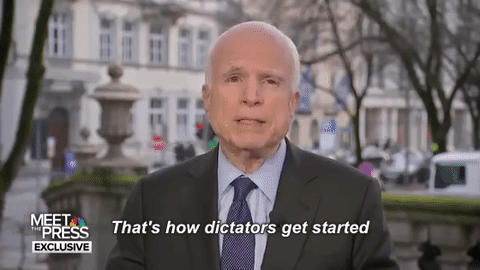 Chad for dictator. Think about it guys.
I'm open to suggestions too. Feel free to make any suggestions in the comments below. Just to get the juices flowing: (1) AOTW nomination gets you 18 months in prison; (2) a single figure M.U.S.C.L.E. BIN listing gets you 24 months in solidary confinement; and (3) Ironhaus toys with every school lunch.
I'm drunk with power. Let's take a look at eBay as if I was your dictator.
– Six months in jail.
– Making me think it was a Purple #149, for a second, is 30 day probation.
– Sent to a work camp. No hope of escape.
– This guy's live M.U.S.C.L.E. auctions obviously get him death. But this needs to be a public spectacle. This kind of behavior, even if I'm not dictator, can't be accepted.
– Carry on. But I'm watching you.
– You've lost your internet privileges.
– Death.
– You're on thin ice Sandy. Thin ice.
– Did you use the word "rare?" I'll show you rare – life in prison.
– I'm turning this case over to my keshi experts. I'll support their decision.
– I feel like this has been listed too many times. Death.
– Used the word "nice" in the auction description and took an over saturated picture. 30 days in the hole.
– "Please see ALL PHOTOS AND DECIDE FOR YOURSELF." Obviously. No TV for a week.
– This guy has no bids on any of his M.U.S.C.L.E. listings. He has no bids on any listings. He's really painting me in a corner. No more eBay for him.
– Death.
– All the bidders got 10 years hard labor. (Probably part of my emerging death industry. Lots of moving people to be killed. Killing people. Clean-up. Hiding bodies. It's really going to help the economy. Plus it doesn't take much training; so the jobs are going to be available to everyone.)
– Seriously. The death industry is going to be booming.
– I want the people to be participants and not just passengers in my dictatorship. $2,500 bounty on this seller.
– Used "rare" six times. Death to the seller and five family members. C'mon people.
– Death. And I'm opening the 4-pack. Ok, I'm starting to cross a line.
I see it now. There will be some hiccups when I become dictator. I'm willing to put in the work. I've wasted nearly a decade on this silly site. Being a dictator would be a breeze.
Plus three-day work weeks every six weeks. I could actually become president with that motto. Nobody steal that, ok?
I could never be president. As soon as the press dug up my old writings I'd be out. (Wow, that was a long way to go for a very old, not very funny, callback.)