I haven't gambled in a very, very long time. Fingers crossed. If this turns out to be anything but a Dark Blue #175, then I'm a loser.
I know it's a long shot, but even I get to be an optimist occasionally. I think there is a much better chance that I've purchased a headache.
Trust me, I see the red flags. But…maybe?
I honestly can't remember the last time I crossed my fingers and did something like this.
The bigger nightmare is that this dummy actually has a Dark Blue #175 and it ends up lost or in a sandbox. I will laugh if it shows up and it is a Dark Blue keshi. That would be a kick in the teeth.
As of writing, there are 148 auctions. Which are worth mentioning?
– Broken belt, figures, and trash. Of course, I'm sure someone is hoping to flip the Class A Salmon #60 figure. Don't get your hopes up on flipping that figure.
– I think the counterfeit figures make this a good lot.
– A "RARE" Flesh figure. Can you guess which figure he thinks is rare?
– Did you think it was a Purple #3 figure too?
– This makes me roll my eyes and smirk every week.
– Remember when we actually used to see MASSIVE lots?
As of writing, there are 3,740 BIN listings.
– Doesn't listing three Light Blue #153 figures hurt your case for $30?
– From the auction description: NEEDS REPAIRS BUT IT IS IMPORTANT PART OF ACTION FIGURE HISTORY. GREAT ITEM TO RESTORATION… What? How? I emailed the seller politely asking how it could be restored. Not at all surprisingly, I didn't receive a response.
– Just the thought of buying a full set makes me sad.
– The figures suck. The logo is awesome.
Welcome to your weekly installment of "Damn the torpedoes!" I feel like I should create a little logo.
When I was updating the links this week something jumped out at me: The M.U.S.C.L.E. Fallacy.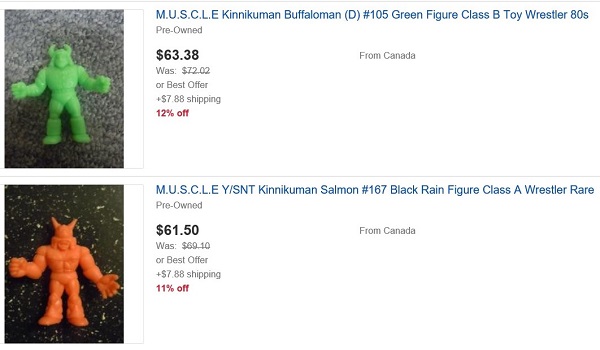 The M.U.S.C.L.E Kinnikuman Buffaloman (D)Green #105 (Class B) Figure is priced at $63.38 (but normally $72.02 without the 12% sale). UPDATE: Since taking the screen capture the Green figure has become more expensive. The discount is now 11%, which makes the price $64.10. It changes nothing.
I was very curious what the auction description might say to help explain the higher price of a Class B figure. But you can't see the full auction description. You need to click on a tab and it shows this. Obviously, it got me even more curious. I'm curious by nature; not naughty.
I found my feedback here too. And I guess she still thinks I haven't shed enough light on all the "high priced muscles." Even worse, she still thinks I only post "negative articles or items that don't sell" because I want to "deter you from buying the item's as they want them for themselves."
That's just not true. I have a Dark Blue #231. I have all of the figures that are for sale. I thought it would be fun to put together a team photo.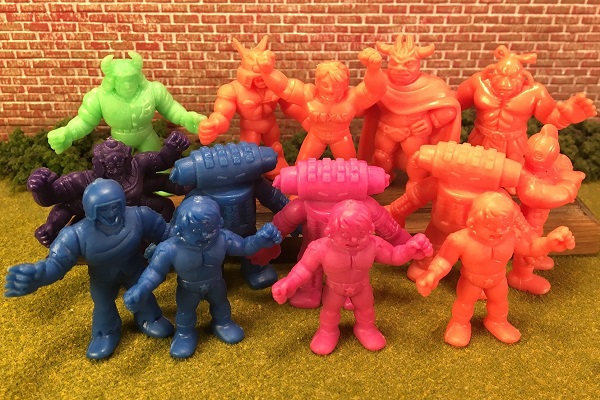 I'm sharing this picture because I want to stress, and make it perfectly-clear, that I'm always 100% honest on this website. I have no reason to lie.
Sure, people will disagree with me when I share my opinion – but I'm never lying. And when I share my opinion I use as much tangible data as possible.
I felt it was unfair that having knowledge, about M.U.S.C.L.E. figures, gave people the power to take advantage of other people. Sharing as much information as possible about M.U.S.C.L.E. toys was a major driving factor of creating this site. I don't want to slip into repeating this post.
I love the M.U.S.C.L.E hobby. I love talking about M.U.S.C.L.E. figures. And I will never lie about M.U.S.C.L.E. figures – even if you don't like my opinion.