This is one of those weeks that I will wonder about five years from now. I'll say something like, "I wonder why there wasn't a Thursday post? It seemed like I had a pretty good rhythm going."
Here's you answer future-Chad. You had Monday, Tuesday, and Wednesday in the bag. You were actually ahead of the game. Then you had a crazy three days of work that included driving to Chicago and back – followed by baseball practice as soon as you got home. Thursday was crazy with work and baseball – plus the boys don't have school tomorrow. And it will be Easter this weekend.
"That doesn't sound so bad," I'll think five years from now. And future-me will be correct. It isn't so bad, but it prohibits working on the site. Future-me should just be happy that there are posts this week.
If you're waiting for eBay links, then you're going to be pretty bummed. I won't repeat myself. With that said, I did take a look.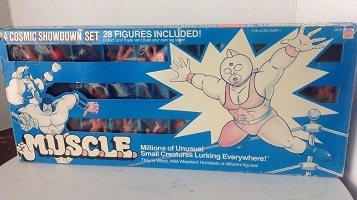 This listing made me laugh. I loved that the seller said, "…original box has some color fading and wear." I had to save the picture (for five years from no future-me).
I would love to hear them describing other things:
– Need to remember this guy for next week.
– And this guy.
The last Epilogue gave us our fourth AOTW, which means this week's AOTW is a Battle of the Champions Fatal-Four Way! I won't recap everything about these combatants. You can click on their picture to see their respective weeks.
Cast your vote and crown this week's AOTW Battle of the Champions Fatal-Four Way winner. Here are the four combatants:

| | | |
| --- | --- | --- |
| | vs. | |
Remember to cast your vote and crown this week's AOTW Battle of the ChampionsFatal-Four Way winner:
[poll id="73″]
Since discovering that our
ULTIMATE
AOTW Battle of the Champions Fatal-Four Way Winner #1 is still trying to sell her empty box, I like to check in each week. Eleven weeks ago it had dropped down to
$160
. Ten weeks ago the price was
$149
. She sat firm for a period at
$145
. Five weeks ago it dropped to
$139
and very recently it was dropped to
$135
. Wow, shes choosing to sit tight at $135 this week.
This is the level-of-asshole it takes to be an ULTIMATE champion. Amazing. She's one of the greats.