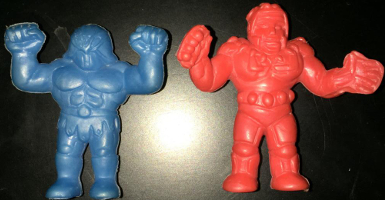 Oh geez, I missed quite a few SUS's. The good news is that five years ago I took another break from about October 2014 to January 2015. I really only need to catch-up on January 2015. Is there anything worth looking back at?
I think there are three posts worth revisiting. The first is the Army Man Plastic MUSCLEMANIA figures. It pisses me off that a 2015 post has screwed up formatting. Over the years I've tried to get better at the formatting of the posts. Overall I think things have gotten better. However, little updates seem to screw little things up. Whatever.
Another post from January worth revisiting is the Ryan Griffin post.
I love M.U.S.C.L.E. being discovered in unexpected places. It helps wash away the grime that can build up in the small M.U.S.C.L.E. pond. This is still one of my favorites.
Ryan's art reminds me of something else. The difference between M.U.S.C.L.E. recognition and M.U.S.C.L.E. fandom. M.U.S.C.L.E. might have been a Top 10 Selling Toy of 1986, but it's closer to a micro-Pet Rock or Furby or some other flash-in-the-pan. Lots of people remember it, but very few people still love it.
The other post from January still makes me anxious. I remember the heat that continued to build in my body as I looked for the figure. My brain started filling with the thought the figure had fallen into a box. I feared that the box had been mailed off and some asshole was secretly owning my figure. I wish that was hyperbole.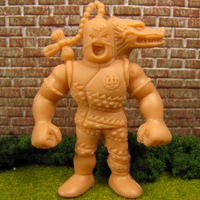 I made the post because I was going to explode. I couldn't keep my own secret.
I'm sure countless Class A and Non-Poster figures are in the trash or buried in Grandma's garden. I wonder if anyone has ever lost a M.U.S.C.L.E. figure as an adult collector?
But there's also some SUS bad news. There was only one February post: MMMM #53
And then there's another break until August of 2015. There are a couple of posts sprinkled in, but nothing until August. Crap.