Gutter Kawaii – Right Arm Cat
By Ironhaus Productions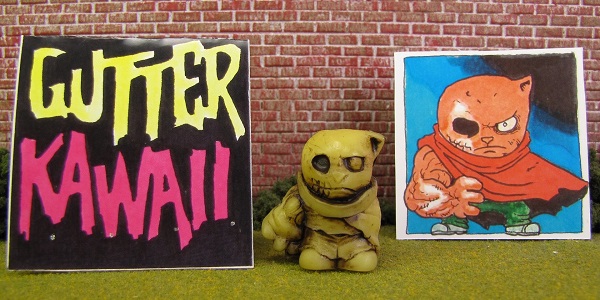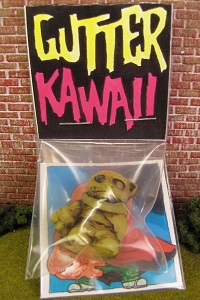 Objective:
Gutter Kawaii is a new brand of minifigures from Ironhaus Productions. The original release of these figures, on January 26th of this year, was a yellow-ish figure with an ink wash (called "Antique Style" in the store). A more recent release has the figures cast in unwashed, basic colors.
The figure comes with a small two-inch, square trading card.
The back of the header card is different from the back of the Lieutenant of Doom.
The figure is smaller than the two-inch card. It is approximately 1 1/4-inch tall.
The figure cost $12, plus shipping.
The Ironhaus Productions blog suggested that there are "a couple surprises throughout this batch." This figure appears to be a regular version.
Subjective:
It is challenging to write anything, even remotely, negative and it not sound painfully caustic. I hope I can avoid that trap.
I like this figure, but it is my least favorite sculpt of the new Gutter Kawaii figures. But I think I know why.
With the Bird Wizard and Lieutenant of Doom the figures fueled my imagination. I appreciate the figures that balance the art and toy components. And I get that toy feeling when a figure fuels my imagination.
Right Arm Cat doesn't do that. He feels like more art than toy – which isn't bad. I really like the figure. But I know that's why Right Arm Cat isn't my favorite of the new batch of figures.
I hope that didn't read too acerbic. It certainly isn't my intention. I was just trying to accurately share my feelings.
I know people were "meh" about the antique style, but, again, I think it really adds something to this figure. Very specifically I think it makes the right eye and exposed teeth look fantastic.
While this figure wasn't my favorite new release, it doesn't weaken the argument that Jimmy is the King of Microfigures.
For more information about Ironhaus Productions, check out these links:
– Ironhaus Productions on UofMUSCLE.com
– Ironhaus Productions on Instagram
– Ironhaus Productions' Store
– Ironhaus Productions' Blog
– Ironhaus Productions on Facebook