Gutter Kawaii – Hipporottamus
By Ironhaus Productions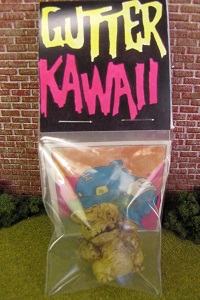 Objective:
Gutter Kawaii is a new brand of minifigures from Ironhaus Productions. The original release of these figures, on January 26th of this year, was a yellow-ish figure with an ink wash (called "Antique Style" in the store). A more recent release has the figures cast in unwashed, basic colors.
The figure comes with a small two-inch, square trading card.
The back of the header card is different from the back of the Lieutenant of Doom.
The figure is smaller than the two-inch card. It is approximately 1 1/4-inch tall.
The figure cost $12, plus shipping.
The Ironhaus Productions blog suggested that there are "a couple surprises throughout this batch." This figure appears to be a regular version.
Subjective:
I think this is the gem of the new Gutter Kawaii figures. The Lieutenant of Doom surprised me how much I liked it. The Bird Wizard instantly charmed me and won a place in my heart. The Righ Arm Cat was very cool, but was my least favorite of the group.
The Hipporottamus knocked me on my ass.
I thought the figure looked pretty cool when I ordered him, but when I had him in my hand I may have audibly gasped.
My imagination raced as I looked at this figure. And with each detail I discovered it further fueled the raging imagination fire. I believe the "wash" is best used on this figure. There is so much detail on this tiny figure my old eyes need the help from the wash – plus it looks great.
I felt this was a dirty, scary character. He has slogged through pain, and anger, and shit. He doesn't wash it away so he never forgets.
As I started taking pictures of this figure I felt a ping of fear. Would I be able to capture my feelings, my impressions, my passion for this figure?
No. I'm not nearly that talented. But I snapped away. I wanted to still try and show as much of this figure as possible. It's still an injustice.
This might be one of Jimmy's greatest figures he has ever created. It sold out, but I suspect that people overlooked this figure. Hell, I probably overlooked it a bit until it was in my hand.
I hope this figure is released again.
Aside from the Master Set, FLAF, and MUSCLEMANIA (hey, it's progress), I don't feel a compulsion to have a figures in multiple colors. However, very rarly, a figure fights it's way into my troubled mind. This figure kicked in the doors and said, "You will love me and buy every single color. Fuck your stupid eight figures."
As you wish.
Long live Jimmy! The King of Microfigures!
For more information about Ironhaus Productions, check out these links:
– Ironhaus Productions on UofMUSCLE.com
– Ironhaus Productions on Instagram
– Ironhaus Productions' Store
– Ironhaus Productions' Blog
– Ironhaus Productions on Facebook